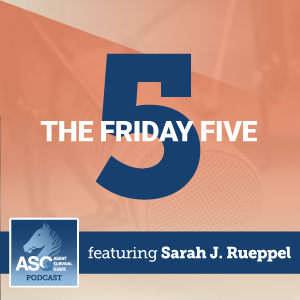 The Friday Five for September 4, 2020:
Medicare Advantage Hospice Carve-In
GoodRx To Go Public
Flu Shot Guidance from CDC
Twitter Tackles Trending Topics
Ritter Insurance Marketing Acquires Secure Benefits Alliance (SBA)
Mentioned in this episode:
Coffee, ketchup and Nike Air Max: it's the COVID consumer economy
Explaining the Newly-Released Medicare Advantage "Carve-In" Model
Frequently Asked Influenza (Flu) Questions: 2020-2021 Season
Getting Upstream: A Hospice Playbook for Value-Based Care
GoodRx files to go public, boasting track record of profitability
Hospice Must Demonstrate Value to Medicare Advantage Plans
Ritter Acquires Maryland-Based Secure Benefits Alliance
Twitter tries to explain trending topics
What Is the Difference Between Palliative Care and Hospice Care
More episodes you'll like:
August 28, 2020 | The Friday Five
The Friday Five for August 28, 2020: Closing the Sale & Managing Rejection; CDC Changes Travel Quarantine Guidance; Teams vs. Zoom; Pandemic Relief for Small Businesses; and Client Conversation Starters.
5 Tips for Selling Medicare Advantage Plans
Ready to rock your Medicare Advantage sales goals this AEP? Learn five ways you can make this Annual Enrollment Period your most successful yet. Our tips can help you grow your commissions and your book of business.
The Hidden Value of Medicare Supplements During AEP
AEP is about more than just Medicare Advantage. Don't miss out on sales because you're missing the product your client wants. Learn why Med Supps make a crucial addition to your insurance portfolio, whether it's Annual Enrollment or not.
The Ritter Platform Launches New Drug Cost Estimator and Prefilled Applications
Big News! We've added two brand-new features to The Ritter Platform - a Prescription Drug Cost Estimator and Prefilled Applications! Learn more about these new additions and how they can simplify your selling process this AEP.
The Ritter Platform is a CRM for insurance agents selling Medicare and other senior market products! Consolidate client info, analyze prescription drug costs, access carrier resources, get info on commissions and more. What could you be saving time on?!?
The latest from Ritter's Blog:
How to Keep Your Product Portfolio Fresh
As an agent in the Medicare insurance industry, you need to stay competitive. An effective way to do this is by routinely examining your portfolio to determine if you're prepared to work at your full potential.
5 Tips for Selling Medicare Advantage Plans
With the Annual Enrollment Period approaching, you may be strategizing to have more success selling Medicare Advantage plans this year.
The Ritter Platform Launches New Drug Cost Estimator and Prefilled Applications
Two brand-new features have been added to our comprehensive agent dashboard. Say "hello" to the Drug Cost Estimator and prefilled applications!
Subscribe & Follow:
Connect on social: