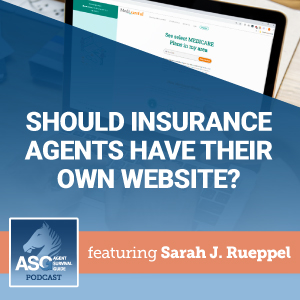 To have a website, or to not have a website? Does my insurance business really need its own website? What would I use it for other than contact information? How do I get started? We answer all these questions and more in this must-listen episode of our Agent Survival Guide Podcast!
Mentioned in this episode:
10 Social Media Statistics You Need to Know in 2020
Social Media Marketing for Insurance Agents
The Ritter Platform Launches 3 New Tools & Shared Client Records
More episodes you'll like:
March 20, 2020 | The Friday Five
The Friday Five for March 20, 2020: Federal COVID-19 response plan; Medicare telehealth expansion; the coronavirus and retail stores; kids and COVID-19; and what to do while quarantined
An Introduction to Social Media
Not sure where to start on social media? The Agent Survival Guide team has you covered! Learn more about why this tool is so essential to your insurance business marketing strategy.
How to Add Technology to Your Insurance Business
Ready to bring technology into your business? Not sure where to start? Listening to this episode is a must if you've been thinking about adding technology to your insurance sales process.
Insurance Agents & CMS Compliance
Stay compliant with the CMS Medicare Communications and Marketing Guidelines — even while on social media. We outline the best practices for insurance agents to follow while using social media.
Social Media Privacy Tips for Insurance Agents
Online privacy is a big deal. You want to use social media to market your insurance business. How do you protect yourself and your clients? We've got some best practices and a link to a very informative eBook that's free to download. Listen to find out more!
What Is E&O Insurance and Do You Need It?
You've worked hard to create and grow your insurance business — but how do you protect your investment? Even insurance agents need protection. In this episode, we make the case for errors and omissions (E&O) insurance.
The latest from Ritter's Blog:
Examining the Medicare Part B Premium Giveback
The standard monthly Part B premium cost for beneficiaries in 2020 is $144.60. Wouldn't it be nice if your clients could get some of that money back? Good news, this is a possibility...(read more)
The Top 5 Products to Sell During Medicare's Lock-In Period
Which products should a Medicare sales agent sell outside of the Annual Enrollment Period to keep earning commissions? We've got the top five additional plan types that should be a part of an agent's portfolio during the... (read more)
Why Go About Your Business in an Ethical, Compliant Fashion?
We've already told you the many ways you can remain compliant as an insurance agent. In this article, we want to focus on the "why." Why should you go about your business in an ethical, compliant... (read more)
Subscribe & Follow:
Connect on social: