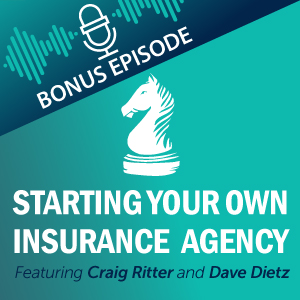 What does it really take to create your own insurance agency? We sat down with Craig Ritter, President and Owner of Ritter Insurance Marketing, and Dave Dietz, Senior Vice President of Marketing at Ritter to pick their brains on the subject. These are just some of the questions they answer: When do I create an LLC? What qualities do I look for in downline agents? Should I follow the 80/20 rule? Listen now for the answers to these questions and more!
Mentioned in this episode:
Developing an Agency: Your Guide to Getting Started
FMO vs. IMO vs. NMO vs. MGA vs. GA: What's the Difference?
How to Recruit Insurance Agents to Your Downline
Interviewing Tips to Bring in Stellar Agents
Should You Incorporate Your Business?
Your Step-By-Step Guide to Getting Started in Insurance Sales
More episodes you'll like:
4 Perks of Partnering with an FMO
What exactly is a field marketing organization? Why partner with an FMO? If you've been debating joining an FMO, you don't want to miss this episode!
4 Reasons Why Ritter Should Be Your FMO Insurance Agency
Looking for an FMO? Not sure what a field marketing organization like Ritter Insurance Marketing can do for your insurance business? Learn everything you need to know in this can't-miss episode of the ASG Podcast!
How to Recruit Insurance Agents to Your Downline
Build your downline with the ASG Podcast. Don't miss our best practices for recruiting agents to your insurance business.
Ready to Join an FMO? 10 Things to Consider
Thinking about partnering with a field marketing organization? Wondering how you can tell the good from the bad? Our top 10 list outlines what you need to know before you partner with an FMO.
What an FMO Can Do For Your Business
Why work with an FMO? What is a Field Marketing Organization? If you've been on the fence about joining an FMO, this can't-miss episode is for you!
Why Taking It Slow is Good for Business
Building your insurance business isn't easy. Learn why taking it slow is a great strategy!
The latest from Agent Survival Guide:
Pros and Cons of Having an Office Space Outside of Your Home
Having a designated space to work and be productive is essential for independent insurance agents. There are going to be advantages and disadvantages with deciding whether or not to acquire an office...(read more)
What is E&O Insurance and Do You Need It?
Mistakes happen, even to the best of us. Fortunately, errors and omissions (E&O) insurance can help you mitigate the risks and costs that come with your profession. The insurance for those who...(read more)
Dual Eligible Special Needs Plans are a great product to add to your portfolio, especially since 12 million Americans (20 percent of the Medicare population) have dual-eligible status. While we think selling...(read more)
Subscribe & Follow:
Connect on social: