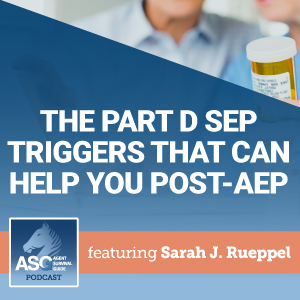 A prospect wants to switch their Medicare Part D coverage, but AEP is over. Can you still help? YES! Listen to learn the different scenarios that can help qualify your client for coverage through a Special Election Period.
Mentioned in this episode:
4 Steps to Finding the Perfect PDP for Your Client
7 Powerful Practices for Selling Prescription Drugs
Definitive Guidelines for the New Open Enrollment Period
Find your level of Extra Help (Part D)
How SPAPs and their SEPs Can Bring You New Business
Programs of All-Inclusive Care for the Elderly (PACE)
Special circumstances (Special Enrollment Periods)
Special Enrollment Periods for Medicare Advantage Plans and Medicare Part D Drug Plans
Stay Busy Outside of AEP With Special Enrollment Periods
More episodes you'll like:
How to Follow up with Medicare Clients Compliantly
Think your job as an agent is complete after the sale? Not so fast. We whole-heartedly believe that the fortune is found in the follow-up! If you're not sure how to follow up with your clients, listening to this episode is a great place to start.
Stay Busy Outside of AEP with Special Enrollment Periods
Drive insurance sales year-round with Special Enrollment Periods. Learn how to find clients and what special kinds of plans should be in your portfolio.
Understanding Medicare Advantage Enrollment Periods
Medicare Advantage has different enrollment periods than Medicare Supplements. What are the Med Advantage enrollment periods? How and when do your Medicare clients qualify for them? Get the answers to your MA enrollment period questions right now!
Articles to Share with Your Clients:
Cooking for Beginners: Cutting Board Safety
Cutting boards are extremely useful tools in the kitchen, especially for protecting your countertops. For that reason, cutting board safety is equally important so you don't accidentally hurt yourself or get sick!
Does Medicare Cover COVID Testing?
Does Medicare cover COVID testing? It's an important question to be answered, since testing can give you peace of mind and help slow the spread of the pandemic.
The Coverage Rules for Medicare Part D Plans
You've come to rely on your Medicare Part D plan to give you coverage for your prescription drugs, but there are rules that govern this coverage and its limits. What are they?
The latest from Ritter's Blog:
What to Do If Your Clients Can No Longer Afford Their Permanent Life Insurance Premiums
Are your clients struggling to pay their permanent life insurance premiums? They have options other than letting their policies lapse! Here's how you can help them salvage their benefits.
How to Take on an Upset Client in the Insurance Industry
At least once in your sales career, you may meet an insurance client who had a negative experience with another agent, plan, or insurance in general. While these bad experiences were out of your control, you have the ability to make their next experience a positive one!
Medicareful 2020 Year-in Review: Here's What We Accomplished
Selling Medicare plans? You've probably heard of Medicareful. We're reviewing what this free Medicare quoting software helped agents accomplish in 2020 and how it set itself apart from other online Medicare sales tools!
Subscribe & Follow:
Connect on social: