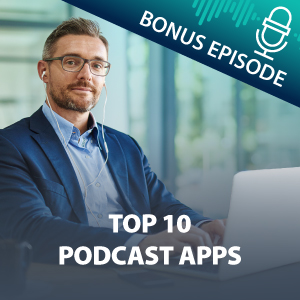 Which podcast app is the best? Do you listen on the number one app or a different one? What features are you missing out on? In the premiere episode of our newest series, Agent Apps, we explore the top 10 podcast listening apps and the features that make each one unique.
 ***UPDATE: Pocket Casts is now FREE for download on both iOS and Android. Read more here. 
Apps mentioned in this episode:
Breaker iOS, Android in Beta
Castro iOS only
Downcast iOS only
Overcast iOS only
Podcast Addict Android only
More episodes you'll like:
4 Reasons Why Ritter Should Be Your FMO Insurance Agency | ASG156
Looking for an FMO? Not sure what a field marketing organization like Ritter Insurance Marketing can do for your insurance business? Learn everything you need to know in this can't-miss episode of the ASG Podcast!
An Introduction to Social Media for Insurance Agents | Social Media 101
Not sure where to start on social media? The Agent Survival Guide team has you covered! Learn more about why this tool is so essential to your insurance business marketing strategy.
How to Get Started in Insurance Sales — FREE Guide
Making a career change isn't an overnight decision. Deciding on a career isn't either! Want to know what it takes to become an insurance agent? Our free guide outlines the whole process so you can make an informed choice and get started selling insurance with ease.
The latest from Agent Survival Guide:
Whether you're just starting out in the industry or you're a seasoned insurance agent, we have the survival kit for you! Each kit includes eBooks, handouts, blog posts, infographics, and videos that… (read more)
The Hidden Value of Selling Medicare Supplements During AEP
While it's true the Annual Enrollment Period is the prime time to sell Medicare Advantage plans, selling Medicare Supplements provides you and your clients a very important alternative during the fall. How… (read more)
What's New in the 2020 Medicare Communications and Marketing Guidelines?
This week, the Centers for Medicare and Medicaid Services released a memo outlining the changes to the Medicare Communications and Marketing Guidelines (MCMG) for the 2020 play year. Updates may… (read more)
Subscribe & Follow:
Connect on social: