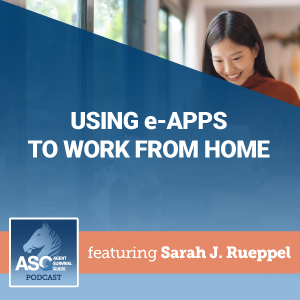 COVID-19 has changed the way we currently do business. Learn how technology can help mitigate the space between how you used to sell insurance and the "new normal" we've found ourselves in.
Mentioned in this Episode:
How You Can Sell Insurance in Your State During COVID-19
Learn the FAQs About Working with Ritter
Register with Ritter Insurance Marketing
Ritter and Carrier Operations During the COVID-19 Pandemic
More episodes you'll like:
Guiding Your Agency Through COVID-19
It's an unprecedented time. COVID-19 has shut down businesses small and large, and if you're wondering how to run your business during a pandemic, you are not alone. How can your insurance agency continue to help clients and stay productive amidst the coronavirus pandemic? We've got some insight that might help.
The Top 5 Products to Sell During Medicare's Lock-In Period
Looking for insurance products to sell during the Medicare lock-in period? In this episode, we highlight the top 5 products insurance agents should include in their portfolio all year round! 
The Value of Staying in Touch with Clients
Why is client retention so important for insurance agents? How do you know where to start? We talk about the why and give you some practical tips to help you retain your Medicare clients.
The latest from Ritter's Blog:
2020 State of the Senior Market: In Review
Craig Ritter, president of Ritter Insurance Marketing, once again gave his annual State of the Senior Market address, but this year, with a little twist. Rather than one long webinar, his address was broken into a four-part video series. We took the highlights from each episode and put them all in one place - this article!
How to Successfully Set SMART Goals
Setting goals is a great way to keep your business on track with a clear path ahead. We recommend setting goals at the beginning of each plan year to help you flourish in the year to come.
What Agents Can't Say During Medicare Sales Appointments
The Centers for Medicare & Medicaid Services have some strict rules on what agents can and cannot say during Medicare sales appointments, but pulling them out of the dense Medicare Communications and Marketing Guidelines (MCMG) can be tough and time-consuming. Here are some examples to help simplify things!
Subscribe & Follow:
Connect on social: