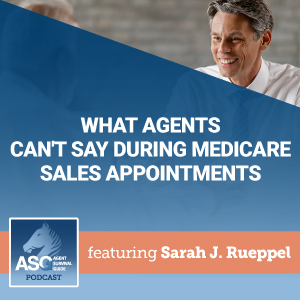 Not sure what you can or can't say during a Medicare sales appointment? We sifted through the CMS Medicare Advantage and Part D Communication Requirements to bring you 9 examples of what NOT to say the next time you make a Medicare sales pitch.
Call Ritter Insurance Marketing at 800-769-1847
Mentioned in this episode:
Contact the Team at Ritter Insurance Marketing
4 Tips for Making a Better Insurance Sales Pitch
Bribery Is Bad... For Business
Defining the True Value of $0 Premium for Medicare Advantage Plans
Do's and Don'ts of Medicare Compliance
Exciting Changes to the 48-Hour Scope of Appointment Rule
Medicare Advantage Communication Requirements
Part D Communication Requirements
Register for your FREE RitterIM.com account
More episodes you'll like:
October 29, 2021 | The Friday Five
Rules for Hosting a Compliant Medicare Educational Event
Rules for Hosting a Compliant Medicare Sales Event
What Are the New Medicare Advantage & Part D Communication Requirements for 2022?
Why Go About Your Business in an Ethical, Compliant Fashion
Articles to Share with Your Clients:
Does Medicare Cover Spouses or Dependents?
Ritter Insurance Marketing eBooks & Guides:
Agent Survival Kits: Beginners or Experts
A Quick Guide to Cross-Selling Ancillary Insurance with Medicare Products
The Complete Guide to Client Loyalty and Retention
The latest from Ritter's Blog:
Be Prepared to Discuss Medicare Telehealth Coverage This AEP
How to Survive AEP: Wellness Tips for Insurance Agents
Navigating Insurance Sales During the Medicare AEP & COVID
Subscribe & Follow:
Connect on social: