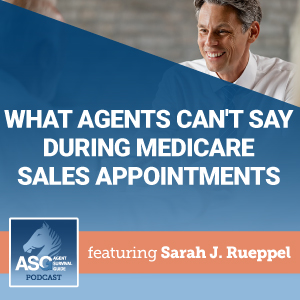 Not sure what you can or can't say during a Medicare sales appointment? CMS has a lot of rules regarding marketing Medicare, but they're not always simple to understand. We sifted through the MCMG to bring you 9 examples of what NOT to say the next time you make a Medicare sales pitch.
Mentioned in this episode:
4 Tips for Making a Better Insurance Sales Pitch
CMS Medicare Communications and Marketing Guidelines information
Defining the True Value of $0 Premium for Medicare Advantage Plans
Exciting Changes to the 48-Hour Scope of Appointment Rule
More episodes you'll like:
Do's and Don'ts of Medicare Compliance
Need a recap on Medicare compliance before AEP? We break down the CMS Medicare Communications and Marketing Guidelines for insurance agents, including new compliance rules for 2020. We'll go over what's allowed — and what's not — in this can't-miss episode of the ASG Podcast.
Staying Compliant Without Compromising Salesmanship
If you're feeling overwhelmed by Medicare compliance, then this episode is one you simply must listen to! We've got three easy ways to stay compliant without having to sacrifice time that could be spent selling. Check out our show notes for a special bonus section with links to our compliance resources.
What Are Insurance Agents Responsible For Under HIPAA?
Stay HIPAA compliant with the Agent Survival Guide Podcast! Find out what you're responsible for under HIPAA regulations.
The latest from Ritter's Blog:
Ritter Can Help You Stay In Touch With Your Clients
Client retention is just as important as taking on new clients. In the insurance world, once a sale is closed, your duty as an agent isn't over. You still need to make sure you check in with your clients from time to time to maintain strong relationships. Use these downloadable templates when touching base with your clients! 
How You Can Sell Insurance in Your State During COVID-19
We've gathered information regarding your state's stance on in-person sales during the COVID-19 pandemic, as well as information about applying for unemployment benefits as a self-employed worker.
Why It's Time to Take a More Relaxed Approach to Insurance Sales
How many times have you walked into a store just wanting to look at something, but ended up walking out with nothing because the stakes felt too high? Maybe you were turned off because you couldn't "just look" without a salesperson trying to give you their spiel? They "pushed" you right out the door, didn't they? Here's how (and why!) to make sure you're not that salesperson.
5 Steps to Selling Medicare Supplements Successfully
Whether you're already selling Medicare Supplements or just starting to look into offering this type of product, there are five simple steps you can take to find more success in your sales. Do you know what they are?
How to Successfully Set SMART Goals
Setting goals is a great way to keep your business on track with a clear path ahead. We recommend setting goals at the beginning of each plan year to help you flourish in the year to come.
Subscribe & Follow:
Connect on social: