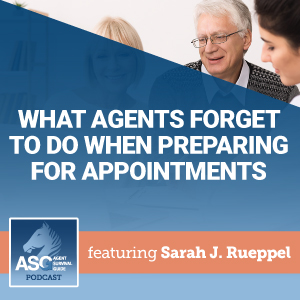 Do you have everything you need for a full day of Medicare sales appointments? What about the client who wants to talk Med Supp but lives an hour away? This small list of actionable to-dos will make a big impact on keeping you organized and stress-free this AEP.
Mentioned in this episode:
5 Tips for Using a Cell Phone Charger
Be prepared for anything during your Medicare Advantage appointments
Clean IQ: What's Really in Those Tide to Go Pens? And Why Don't You Have to Rinse Them?
Contact the Team at Ritter Insurance Marketing
How to Prepare for AEP Like a Pro
How to Survive AEP: Wellness Tips for Insurance Agents
Register with Ritter Insurance Marketing
What Are the Side Effects of Not Eating
Why We Get Hangry, According to Science
More episodes you'll like:
9 Tips to Submitting an Error-Free Application
Want to avoid commissions and coverage delays on your Medicare applications? The secret is writing clean applications that won't get flagged during the submissions process. We've done the research for you! Use these 9 helpful tips to start writing cleaner applications.
Are Your Medicare Marketing Materials Compliant?
Are you following the rules for marketing Medicare plans? We're sharing the answers to frequently asked compliance questions to help you ensure you stay on good terms with CMS.
August 7, 2020 | The Friday Five
The Friday Five for August 7, 2020: Healthy Hacks for the Drive-Thru; Large Coffee, Hold the Calories; Pandemic Productivity Hacks; How to Ask For Referrals; and Self-Care During the COVID-19 Pandemic.
Reassuring Clients During Difficult Times
How are your clients doing? Do they have questions about COVID-19 and Medicare? Have you reached out? Have they? If you're not sure what to say, or even where to start, we've got some suggestions in this episode. (And they're easy to implement, too!)
Tips on How to Stay Productive While Working From Home
Maximize your productivity - even as you work from home! Let's face it, WFH is lasting longer than most of us thought. If you're struggling to stay productive right now, we get it! Try out our list of productivity hacks to get back on track.
The latest from Ritter's Blog:
Each summer, Ritter Insurance Marketing hosts the annual Summits, where insurance agents can receive an exclusive first look at the next year's Medicare Advantage and Part D plan offerings. This year, we're hosting our Summits a little differently.
When Do Med Supp Plans K, L, M, & N Make Sense?
Do you tend to place clients in Medicare Supplement Plans C, D, F, or G? While it's true these Med Supps cover the most out-of-pocket costs, never overlook Plans K, L, M, and N.
5 Tips for Using Medicareful to Sell More Medicare Plans
Medicareful gives agents the potential to double or triple their capacity to safely engage prospects and enroll clients! How can you maximize your site and Medicare sales? To start, request your free Medicareful page here!
Subscribe & Follow:
Connect on social: