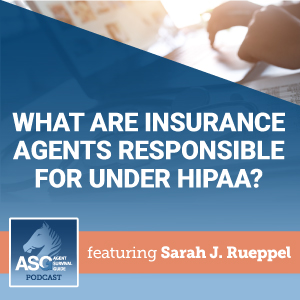 Stay HIPAA compliant with the Agent Survival Guide Podcast! Find out what you're responsible for under HIPAA regulations.
Mentioned in this episode:
HHS Minimum Necessary Requirement
HHS: New rule protects patient privacy, secures health information
HHS Summary of the HIPAA Security Rule
Is Your Agency Ready for a HIPAA Audit?
Why Every Agency Should Work for HIPAA Compliance
More episodes you'll like:
Are Your Medicare Marketing Materials Compliant?
Want to make sure your Medicare sales and marketing materials are compliant this AEP? We've got the answers to frequently asked compliance question. We'll help you stay on good terms with CMS!
Do's and Don'ts of Medicare Compliance
Need a recap on Medicare compliance before AEP? We break down the CMS Medicare Communications and Marketing Guidelines for insurance agents, including new compliance rules for 2020. We'll go over what's allowed — and what's not — in this can't-miss episode of the ASG Podcast.
Insurance Agents & CMS Compliance | Social Media 101
Stay compliant with the CMS Medicare Communications and Marketing Guidelines — even while on social media. We outline the best practices for insurance agents to follow while using social media.
Social Media Privacy Tips for Insurance Agents | Social Media 101
Online privacy is a big deal. You want to use social media to market your insurance business. How do you protect yourself and your clients? We've got some best practices and a link to a very informative eBook that's free to download. Listen to find out more!
What's New in the 2020 Medicare Communications and Market Guidelines?
Make sure you're compliant with the latest CMS Medicare Communications and Marketing Guidelines. We've got an update on the 2020 MCMG that you don't want to miss.
The latest from Ritter's Blog:
Why Go About Your Business in an Ethical, Compliant Fashion?
We've already told you the many ways you can remain compliant as an insurance agent. In this article, we want to focus on the "why." Why should you go about your business in an ethical, compliant… (read more)
The Agent Survival Guide Has a New Home
Big things are happening with the Agent Survival Guide in 2020! Now, all our Agent Survival Guide content is available on RitterIM.com. Here's everything you need to know about the... (read more)
Should You Become a Certified Insurance Counselor?
Are you considering becoming a Certified Insurance Counselor? For some agents, this certification may be something brand new! We're here to break down what this certification is, how you can obtain... (read more)
Subscribe & Follow:
Connect on social: