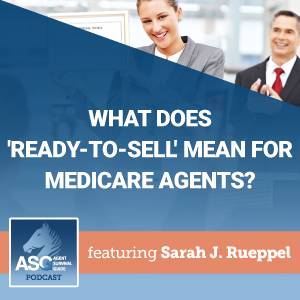 How do insurance agents achieve 'ready-to-sell' status? Learn more about the requirements to sell Medicare Advantage and Medicare Part D plans during the Annual Enrollment Period. We'll help you get RTS just in time for AEP.
Mentioned in this episode:
2022 Medicare Advantage & Part D Certification Info
Contract Status Descriptions on the Ritter Platform
FAQs About NAHU Medicare Certification
Medicare Products Available with Ritter
Online Contracting with Ritter Insurance Marketing
See How The Ritter Platform Works
What Is AHIP Certification and How Do I Get It?
More episodes you'll like:
5 Must-Haves for Every Agent This AEP
How to Get Your Medicare Enrollment Kits on Time
How to Prepare for AEP Like a Pro
Articles to Share with Your Clients:
Dealing with Bladder Control Issues
Ritter Insurance Marketing eBooks & Guides:
Agent Survival Kits: Beginners or Experts
The Complete Guide on How to Sell Medicare Advantage Plans
The Complete Guide on How to Sell Prescription Drug Plans
The latest from Ritter's Blog:
What Are the New Medicare Advantage & Part D Communication Requirements for 2022?
Medicare & Medicaid Compared: How Both Programs Benefit Insurance Agents
Subscribe & Follow:
Connect on social: