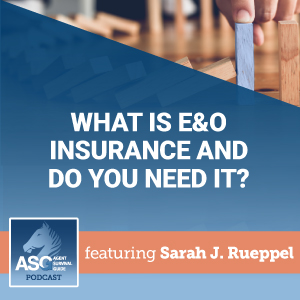 You've worked hard to create and grow your insurance business — but how do you protect your investment? Even insurance agents need protection. In this episode, we make the case for errors and omissions (E&O) insurance.
Mentioned in this episode:
Errors & Omissions Insurance (E&O)
FMO vs. IMO vs. NMO vs. MGA vs. GA: What's the Difference?
More episodes you'll like:
Are Your Medicare Marketing Materials Compliant?
Want to make sure your Medicare sales and marketing materials are compliant this AEP? We've got the answers to frequently asked compliance questions. We'll help you stay on good terms with CMS!
You have questions about AHIP, we've got the answers! Get the facts on this exam, from how much it costs and where to take it, to study tips and discounts.
What are Insurance Agents Responsible for Under HIPAA?
Stay HIPAA compliant with the Agent Survival Guide Podcast! Find out what you're responsible for under HIPAA regulations.
The latest from Ritter's Blog:
Why Go About Your Business in an Ethical, Compliant Fashion?
We've already told you the many ways you can remain compliant as an insurance agent. In this article, we want to focus on the "why." Why should you go about your business in an ethical, compliant… (read more)
The Agent Survival Guide Has a New Home
Big things are happening with the Agent Survival Guide in 2020! Now, all our Agent Survival Guide content is available on RitterIM.com. Here's everything you need to know about the... (read more)
Should You Become a Certified Insurance Counselor?
Are you considering becoming a Certified Insurance Counselor? For some agents, this certification may be something brand new! We're here to break down what this certification is, how you can obtain... (read more)
Subscribe & Follow:
Connect on social: