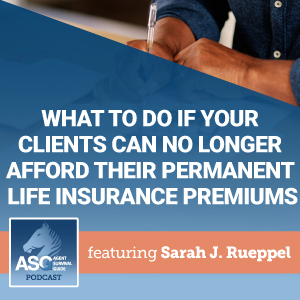 Have a client who's struggling to pay their permanent life insurance premium? Before they let their policy lapse, they DO have options! Help them salvage their benefits with our tips. 
Mentioned in this episode:
2017 Insurance Barometer Study
Americans were already struggling to save for retirement. The pandemic is making it worse.
COVID-19 impact to life insurance and annuity companies
Creating an Irrevocable Burial Trust
Get Information on Contracting with Single Premium Whole Life Carriers
Most Americans still struggling financially due to pandemic, study finds
The Complete Guide on How to Sell Final Expense Insurance
More episodes you'll like:
3 Ways to Calculate Your Clients' Life Insurance Needs
How do you calculate the amount of life insurance your client needs? We outline three methods insurance agents can use to find the right amount of coverage.
5 Life Insurance Myths Your Clients May Believe
Do your clients truly understand life insurance? We debunk five myths your clients may use as objections to purchasing a policy. Learn how to handle these objections and make the sale!
Life Insurance for Each of Life's Stages
Generate more life insurance sales with this helpful primer. We cover the typical life stages of your clients, what kinds of coverage they need, and which insurance products you should recommend.
Articles to Share with Your Clients:
Does Medicare Cover COVID Testing?
Does Medicare cover COVID testing? It's an important question to be answered, since testing can give you peace of mind and help slow the spread of the pandemic.
Finding a Purpose Makes You Happier, Healthier
Having a purpose or guiding passion in your life can help you deal with stress, be happier, and even live longer. Here are all the ways living with a purpose benefits you and how you can find yours!
Ways Seniors Can Lower Heating Costs in the Winter
Looking for ways you can lower your heating bill this winter? You're in luck because you can without compromising comfort!
The latest from Ritter's Blog:
What to Do If Your Clients Can No Longer Afford Their Permanent Life Insurance Premiums
Are your clients struggling to pay their permanent life insurance premiums? They have options other than letting their policies lapse! Here's how you can help them salvage their benefits.
Medicareful 2020 Year-in-Review: Here's What We Accomplished
Selling Medicare plans? You've probably heard of Medicareful. We're reviewing what this free Medicare quoting software helped agents accomplish in 2020 and how it set itself apart from other online Medicare sales tools!
In the insurance industry, leads are what sustain your business. Of course, you need the contracts, training, and other skills to be a successful insurance agent, but without leads, you'll just be spinning your wheels.
Subscribe & Follow:
Connect on social: