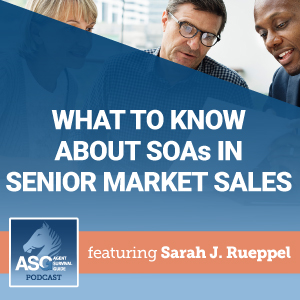 Have questions about SOAs? Find the answers to your frequently asked questions in this episode all about Scopes of Appointment. We help you stay compliant, whether it's inside or outside of AEP!
Mentioned in this episode:
CMS 2019 Medicare Communications and Marketing Guidelines (MCMG)
CMS Memo [8/16/2019]: Medicare Communications and Marketing Guidelines
Do's and Don'ts of Medicare Compliance
Exciting Changes to the 48-Hour Scope of Appointment Rule
Rules for Hosting a Compliant Medicare Sales Event
More episodes you'll like:
Does Your Medicare Sales Approach Satisfy Different Budgets?
Your portfolio likely includes different types of insurance for different coverage needs. But what about different financial needs? How do you factor cost into the equation compliantly?
FMO vs. IMO vs. NMO vs. MGA vs. GA – What's the Difference?
We've got a lot of jargon to keep up with in the insurance industry. In this episode, we're going to unpack the acronyms for the types of individuals and organizations that exist in the industry to help you make your some of your business decisions a whole lot easier.
How to Get Started in Medicare Sales
New to the Medicare insurance industry? Welcome, and congratulations! We packed this episode with all the agent essentials - training, tools, enrollment periods and more! Basically, everything you want to know when starting out!
Articles to Share with Your Clients:
5 Ways to Warm Up Quickly in the Winter
Nobody likes being cold, and sometimes, it can even be dangerous. Beat the cold this winter with a few effective ways to warm up quickly!
Internet Safety Tips for Seniors
The internet can be an entertaining and informative place, but there's also a darker side to it. It's easy to fall prey to scams, identity theft, or bad information. Here are a few internet safety tips so you can protect yourself online.
When Can I Get a COVID-19 Vaccination?
There are many questions surrounding the rollout of the COVID-19 vaccination. When can you get one? Where? Is it safe? We're giving you some answers and resources where you can find additional information!
The latest from Ritter's Blog:
Best Practices for Writing an Email to Your Insurance Clients
A professional and effective business email takes some thought and care to construct. This is true across all industries — and even for insurance agents writing marketing or follow-up emails to their clients.
How to Be an Adaptable Insurance Agent
In today's ever-changing world, being adaptable is not only good for business, it's a necessity. As an insurance agent, you need this skill to keep up with the times and your clients' unique needs.
How to Take on an Upset Client in the Insurance Industry
At least once in your sales career, you may meet an insurance client who had a negative experience with another agent, plan, or insurance in general. While these bad experiences were out of your control, you have the ability to make their next experience a positive one!
Subscribe & Follow:
Connect on social: