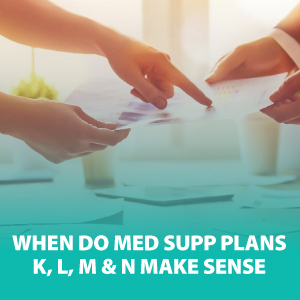 Take a closer look at Medicare Supplement Plans K, L, M, and N. Learn more about how these specific Medigap plans work and the ideal clients for each type. Read the text version.
Ask the Agent Survival Guide Hotline: 1-717-562-7211
Mentioned in this Episode:
Medicare.gov: How to compare Medigap policies
Ritter's Medicare Quote Engine
More episodes you'll like:
Medicare Supplement Changes Will Introduce Two New Eligibility Groups
Med Supp changes are coming for 2020. Get all the facts about the two new Med Supp eligibility groups here, like what they are, who falls into each group, which plans you can sell to clients in each group, and more, in this can't-miss episode.
What to Know When Replacing Existing Med Supp Plans for Clients
Learn how to switch your client's Medigap plans. We unpack it all, from why your clients might want to switch Med Supps, to the free look period and everything in between.
The Hidden Value of Medicare Supplements During AEP
There's more to sell during the Annual Enrollment Period than just Medicare Advantage. Find out why Med Supps make a great addition to your portfolio, whether it's AEP or not.
The latest from Agent Survival Guide:
Four Reasons Why Ritter Should Be Your FMO Insurance Agency
Organization Tips and Tricks for AEP
The Hidden Value of Selling Medicare Supplements During AEP
Subscribe & Follow:
Connect on social: