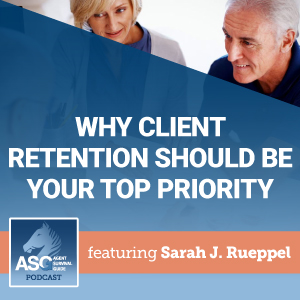 Discover how to keep existing clients coming back for more. We talk strategy and give you practical steps you can easily implement in your own insurance business.
Mentioned in this episode:
5 Clever Ways to Keep in Touch with Your Clients
Digital Are the Channels of Choice for Today's Auto Insurance Shopper; Digital Leaders Setting the Pace for Premium Growth, Says J.D. Power Study
Get the Guide – The Complete Guide to Client Retention and Loyalty
How Surveys Influence Customers
Loyalty Rewards Infographic – What Makes Consumers Stay
Medicare for Snowbirds, Sunbirds, & Travel Enthusiasts
More episodes you'll like:
3 Easy Ways to Build Your Insurance Sales Territory
Maximize your reach and grow your selling territory! We outline the best practices for insurance agents to follow.
Best Practices for Writing an Email to Your Insurance Clients
Write emails with confidence! We outline the best (and easy to implement!) practices for insurance agents to use when emailing clients.
How Client Retention Boosts Your Insurance Sales
Master the art of treating your client as the renewal, not their policy. Learn why building relationships with your current clients is more beneficial (and cost effective!) than courting new ones.
Keys to Client Retention: Digital Communication
Improving your digital communication skills can benefit your business, but where do you start? Use the tips and resources outlined in this episode of the ASG Podcast!
March 19, 2021 | The Friday Five
The Friday Five for March 19, 2021: The American Rescue Plan Act of 2021, Dr. B & leftover COVID vaccines, COVID vaccine hesitancy, your online presence & branding, the COVID-19 pandemic - one year later
Articles to Share with Your Clients:
Is There Actually a 6th Taste?
Salty, sweet, sour, bitter, and umami — those are the only flavors, right? In recent years, support for a sixth taste has grown. But what exactly is oleogustus?
I've Gotten the COVID Vaccine. Now What?
Once you've received the COVID-19 vaccine, you may be wondering what's next? Can you return to normal life? The answer is a little complex.
Start Your Green Thumb with a Windowsill Garden
If you've ever wanted a garden, but don't have the space or time, you're in luck! Growing a windowsill garden can make it both easier and more convenient to have a garden.
The latest from Ritter's Blog:
Why Insurance Agents Fail (& How Not To!)
There are many reasons why insurance agents may "fail" or not be as successful as they originally set out to be. Let's discuss some of those obstacles, and how to overcome them!
Ritter is More Than Medicare & Our New Team Brand Shows Why
When selling Medicare Advantage and Medicare Supplement policies, it's important to remember that More than Medicare products are the missing pieces of the puzzle.
Medicare Advantage Trial Rights Explained for Agents
If you have a client who enrolled in a Medicare Advantage plan but wants to go (back) to Original Medicare, they may qualify for a Medicare Advantage trial right! This would allow them to update their coverage outside of the Annual Enrollment Period.
Subscribe & Follow:
Connect on social: