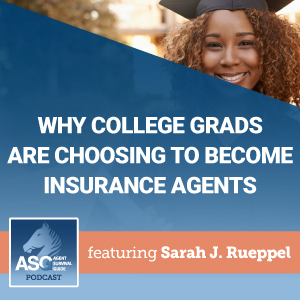 Graduating college soon? Looking for a career change? Becoming an independent insurance agent can give you the flexibility and financial stability you're looking for!
Mentioned in this episode:
2020 Census Will Help Policymakers Prepare for the Incoming Wave of Aging Boomers
3 Advantages of Being an Independent Insurance Agent
A Dozen Facts About Medicare Advantage in 2020
Biggest Industries by Revenue in the US in 2021
Contact the Team at Ritter Insurance Marketing
Get the Details on the Ritter Platform
National Insurance Producer Registry
Occupational Outlook Handbook – Insurance Sales Agent
Ready to Join an FMO? 10 Things to Consider
Selling Medicare Products – Why It's Definitely Worth Your While
Your Step-By-Step Guide to Getting Started in Insurance Sales
What is Medicareful? Learn more about this tool for insurance agents!
Why Now is the Time to Start Selling Insurance
Ritter Insurance Marketing eBooks & Guides:
Agent Survival Kits: Beginners or Experts
A Quick Guide to Cross-Selling Ancillary Insurance with Medicare Products
Developing an Agency – Your Guide to Getting Started
How to Host a Successful Medicare Educational Event
Modern Medicare Marketing for Today's Agents
Social Media Marketing for Insurance Agents
The Complete Guide on How to Sell Final Expense Insurance
The Complete Guide on How to Sell Medicare Advantage Plans
The Complete Guide on How to Sell Medicare Supplements
The Complete Guide to Client Loyalty and Retention
Your Step-By-Step Guide to Getting Started in Insurance Sales
More episodes you'll like:
4 Reasons Why Ritter Should Be Your FMO Insurance Agency
Looking for an FMO? Not sure what a field marketing organization like Ritter Insurance Marketing can do for your insurance business? Learn everything you need to know in this can't-miss episode of the ASG Podcast!
FMO vs. IMO vs. NMO vs. MGA vs. GA: What's the Difference?
We've got a lot of jargon to keep up with in the insurance industry. In this episode, we're going to unpack the acronyms for the types of individuals and organizations that exist in the industry to help you make your some of your business decisions a whole lot easier.
Ready to Join an FMO? 10 Things to Consider
Thinking about partnering with an FMO? Wondering how you can tell the good from the bad? Our top 10 list outlines what you need to know before you partner with a field marketing organization.
What an FMO Can Do For Your Business
Why work with an FMO? What is a Field Marketing Organization? If you've been on the fence about joining an FMO, this can't-miss episode is for you!
Articles to Share with Your Clients:
Cookbooks vs. Cooking Books: What's the Difference?
If you're looking to improve your cooking, there are options you can try at home. Among these are cookbooks and cooking books. You may be surprised by the difference between the two.
Ways Seniors Can Save on Groceries
Looking for ways seniors can save on their groceries each month? With a little planning, skill, and flexibility, you can make a sizable dent in your grocery bill!
What are the Parts of Medicare?
Medicare can seem very intimidating, but understanding it is very important. Here we detail a quick breakdown of the major parts.
The latest from Ritter's Blog:
Why Insurance Agents Fail (& How Not To!)
There are many reasons why insurance agents may "fail" or not be as successful as they originally set out to be. Let's discuss some of those obstacles, and how to overcome them!
Ritter is More Than Medicare & Our New Team Brand Shows Why
When selling Medicare Advantage and Medicare Supplement policies, it's important to remember that More than Medicare products are the missing pieces of the puzzle.
Medicare Advantage Trial Rights Explained for Agents
If you have a client who enrolled in a Medicare Advantage plan but wants to go (back) to Original Medicare, they may qualify for a Medicare Advantage trial right! This would allow them to update their coverage outside of the Annual Enrollment Period.
Subscribe & Follow:
Connect on social: