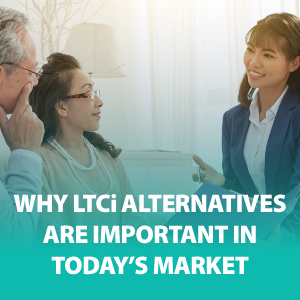 Are you familiar with all the Long-Term Care insurance options you can offer your clients? In this episode, we cover the alternatives to traditional LTC insurance and why these products deserve a place in your portfolio.
Mentioned in this Episode:
Combination Products Giving Life Back to Long-term Care Market
It Is Time to Acknowledge Standard LTCi Alternatives
Leading Through Change: 17th Annual Intercompany Long Term Care Insurance Conference
Long-Term Care Insurance: The SOA Pricing Project
Long-Term Care Insurance Facts – Data - Statistics
Long-Term Care Insurance Health Qualifications. Are You Even Insurable?
Long-Term Services and Supports for Older Americans: Risks and Financing Research Brief
Short-Term Care Insurance Policy Sales Grow 20 Percent
The Traditional Long-Term Care Insurance Market Crumbles
Who is Covered by Private Long-Term Care Insurance?
More episodes you'll like:
4 Out-of-The-Box Long-Term Care Insurance Solutions | ASG182
Traditional isn't the only way to go when it comes to Long-Term Care insurance for your clients. We've got four non-traditional LTC solutions that just might do the trick. 
An Alternative Approach to Long-Term Care Planning | ASG145
Think traditional Long-Term Care insurance is the only way to cover your client's future LTC expenses? Show your clients a different way with linked-benefit Life/LTC policies.
Are You Offering Multiple LTCi Options? | ASG142
Ready to offer more Long-Term Care insurance products in your portfolio? Learn the benefits and distinctions of each LTCi option – and how these products can boost your sales.
The Increasing Value of Combining Life & LTC | ASG138
Do linked-benefit Life/LTC insurance products have a place in your portfolio? Find out why the market is ripe for these types of plans right now!
The latest from Agent Survival Guide:
Halfway Through AEP: Reflect & Renew Your Medicare Sales Strategies
November 10 marks the halfway point for the 2020 Annual Enrollment Period! If you're selling Medicare products, now's the time to reflect on your success during the first few weeks and recharge... (read more)
5 Major Things to Expect in the Medicare Advantage Market for 2020
Spoiler alert: With the way the market's looking for 2020, we feel confident saying now's a FANTASTIC time to be selling Medicare Advantage (MA) plans. Here's why. The Kaiser Family Foundation (KFF),... (read more)
Why You Need to Make Time for Medicare Training (& Where to Find Great Resources!)
It's the Annual Enrollment Period, the busiest time of the year if you're a Medicare agent! More sales translate into more money. And we all know time is money, so the more... (read more)
Subscribe & Follow:
Connect on social: