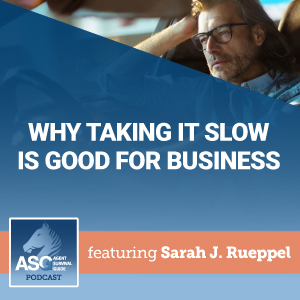 It's not easy building your insurance business. But it's also not a race! Listen to learn why taking it slow is a great strategy for insurance agents!
Mentioned in this episode:
16 Stats That Prove You Should Put Your Clients First
Avoid Burnout Before You're Already Burned Out
Do's and Don'ts of Medicare Compliance
How To Prevent Burnout – 13 Signs You're On The Edge
How to Recruit Insurance Agents to Your Downline
More episodes you'll like:
4 Reasons Why Ritter Should Be Your FMO Insurance Agency
Looking for an FMO? Not sure what a field marketing organization like Ritter Insurance Marketing can do for your insurance business? Learn everything you need to know in this can't-miss episode of the ASG Podcast!
Starting Your Own Insurance Agency featuring Craig Ritter and Dave Dietz
What does it really take to create your own insurance agency? We sat down with Craig Ritter, President and Owner of Ritter Insurance Marketing, and Dave Dietz, Senior Vice President of Marketing at Ritter to pick their brains on the subject. These are just some of the questions they answer: When do I create an LLC? What qualities do I look for in downline agents? Should I follow the 80/20 rule? Listen now for the answers to these questions and more!
The Value of Staying in Touch With Clients
Why is client retention so important for insurance agents? How do you know where to start? We talk about the why and give you some practical tips to help you retain your Medicare clients.
The latest from Ritter's Blog:
Guiding Your Agency Through COVID-19
The COVID-19 virus has effectively changed the way the United States operates for the foreseeable future. With business closures and travel restrictions, the potential to harm small businesses like insurance agencies is obvious and potentially devastating. But, with the right combination of planning and flexibility — and a dash of help from your friendly FMO — it doesn't have to derail your agency's productivity.
How to Successfully Set SMART Goals
Setting goals is great way to keep your business on track with a clear path ahead. We recommend setting goals at the beginning of each plan year to help you flourish in the year to come.
Ritter and Carrier Operations During the COVID-19 Pandemic
The COVID-19 virus has effectively changed the way the United States operates for the foreseeable future. A compilation of information from the carriers Ritter supports regarding their capacity to continue operations during the COVID-19 pandemic.
What Agents Can't Say During Medicare Sales Appointments
The Centers for Medicare & Medicaid Services have some strict rules on what agents can and cannot say during Medicare sales appointments, but pulling them out of the dense Medicare Communications and Marketing Guidelines (MCMG) can be tough and time-consuming. Here are some examples to help simplify things!
More People Working Past Age 65: What It Means for Agents Selling Medicare Plans
For agents selling Medicare plans, the stereotypical prospect has been someone with graying hair, approaching the age of 65 or already past it, and retired. There have always been those who don't fit this stereotype; however, lately, you've probably noticed more of them.
Subscribe & Follow:
Connect on social: