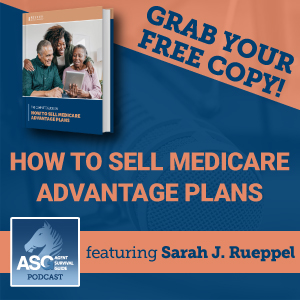 Get ready to find out what selling Medicare Advantage is all about!
Whether you're already an insurance agent selling Medicare or you're transitioning to MA sales, we want to help you build your career.
Our eBook is packed with information on Medicare Advantage – certification, contracting, sales pitches, cross-selling tips, training, marketing, and more!
Wondering who qualifies for MA plans or when you can enroll your clients?
We answer those questions, and give you an AEP Ready-to-Sell Checklist, FAQs on AHIP, and info on enrolling clients online with Medicareful. Download your copy of our FREE eBook today!
Mentioned in this episode:
Contact the Team at Ritter Insurance Marketing
Get the eBook – The Complete Guide on How to Sell Medicare Advantage Plans
Register for your FREE RitterIM.com account
More episodes you'll like:
September 17, 2021 | The Friday Five
2022 Medicare Advantage and Part D Certification Info
How to Help Your Clients Get the Most Out of Their Medicare Advantage Plans
Maximum Broker Commissions for Medicare Advantage & Medicare Part D
What Are the New Medicare Advantage & Part D Communication Requirements for 2022?
Articles to Share with Your Clients:
How to Pick a Medicare Advantage Plan
Understanding Your Medicare Advantage MOOP Limit
What is Medicare Part C (Advantage)?
The latest from Ritter's Blog:
Largest COLA Since 1983 Projected & How It Affects Part B Premiums
Medicare & Medicaid Compared: How Both Programs Benefit Insurance Agents
NAHU 2022 Medicare Certification Training
Subscribe & Follow:
Connect on social: