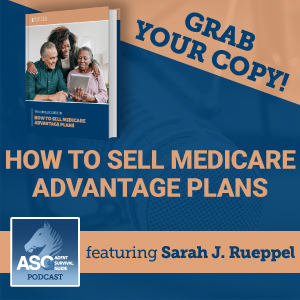 Get ready to find out what selling Medicare Advantage is all about! Whether you're already an insurance agent selling Medicare or you're transitioning to MA sales, we want to help you build your career. Our eBook is packed with information on Medicare Advantage – certification, contracting, sales pitches, cross-selling tips, training, marketing, and more! Wondering who qualifies for MA plans or when you can enroll your clients? We answer those questions, and give you an AEP Ready-to-Sell Checklist, FAQs on AHIP, and info on enrolling clients online with Medicareful. Download your copy of our FREE eBook today!
Mentioned in this episode:
Get the eBook – The Complete Guide on How to Sell Medicare Advantage Plans
More episodes you'll like:
May 29, 2020 | The Friday Five
The Friday Five for May 29, 2020: CMS Releases Final Rule for Medicare Advantage & Part D 2021; Telehealth on the rise with consumers; CMS Announces Part D Senior Savings Model featuring affordable insulin; Apple and Google Contact Tracing API; and Kaiser Permanente releases Covid-19 Playbook
5 Major Things to Expect in the Medicare Advantage Market for 2020
What's new in the Medicare Advantage Market for 2020? The ASG Podcast has the scoop on what you can expect in the coming year, including new MA carriers!
Defining the True Value of $0 Premium for Medicare Advantage Plans
There's more to $0 Premium Medicare Advantage plans than just the premium. Learn about all the costs associated with these popular plans so you can help your senior clients know what to expect when they access their coverage.
Selling Hospital Indemnity Insurance with Medicare Advantage – Is It Worth It?
Pairing hospital indemnity with Medicare Advantage does so much more than generating additional sales. This cross-sale helps shield your clients from the rising costs of a hospital stay. Discover why hospital indemnity could be just the plan your portfolio has been missing!
Understanding Medicare Advantage Enrollment Periods
What are the different Medicare Advantage enrollment periods? How and when do your clients qualify for them? Get the answers to your MA enrollment period questions in this episode of the ASG Podcast!
The latest from Ritter's Blog:
Tips on How to Stay Productive When Working From Home
When your schedule is thrown for a loop due to something like COVID-19, or any other event that changes how you work, it can be hard to find a new normal.
A Review of the Top Medicare Quote Engines for Insurance Agents
An agent selling Medicare products is only as good as the Medicare quoting tool they're using. We're looking at agents' top options for fast and reliable Medicare quoting software and what makes them so special.
Ritter Can Help You Stay in Touch with Your Clients
In any type of business, client retention is just as important as taking on new clients. In the insurance world, once a sale is closed, your duty as an agent isn't over.
Subscribe & Follow:
Connect on social: