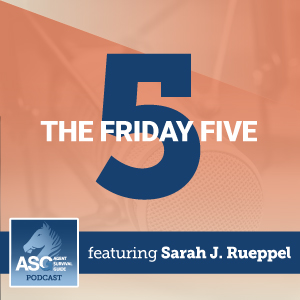 The Friday Five for January 15, 2021:
CDC Updates Rules for Travelers Flying to U.S.
Apple announces Racial Equity and Justice Initiative projects
Student Loan Forgiveness Under Biden?
Consumer Electronics Show 2021
Gut Microbes and Human Health
Mentioned in this episode:
Apple launches major new Racial Equity and Justice Initiative projects to challenge systemic racism, advance racial equality nationwide
Biden to extend pause on federal student loan payments
CDC to require all air travelers to US to show negative coronavirus test
CES 2021 products you can actually buy this year
Girl Scout Cookies Will Be Sold Online Nationwide This Year, Including Via Grubhub
How the Right Foods May Lead to a Healthier Gut, and Better Health
Landmark human study is first to reveal strong links between gut microbes, diet and health
The Best Tech of CES 2020: Where Are They Now?
More episodes you'll like:
January 8, 2021 | The Friday Five
The Friday Five for January 8, 2021: Centene acquires Magellan Health; Haven Healthcare is no more; KFF COVID-19 Medicare Cost and Coverage FAQs; Think Advisor Industry Predictions for 2021;and Stimulus Relief Payment Issues & Recent Package Details
Does Your Medicare Sales Approach Satisfy Different Budgets?
Your portfolio likely includes different types of insurance for different coverage needs. But what about different financial needs? How do you factor cost into the equation compliantly?
How to Take on an Upset Client in the Insurance Industry
What do you when your client is upset because of how another insurance agent treated them? Get tips on how to turn that past, negative experience into a positive, and a loyal client.
Articles to Share with Your Clients:
Does Medicare Cover COVID Testing?
Does Medicare cover COVID testing? It's an important question to be answered, since testing can give you peace of mind and help slow the spread of the pandemic.
Finding a Purpose Makes You Happier, Healthier
Having a purpose or guiding passion in your life can help you deal with stress, be happier, and even live longer. Here are all the ways living with a purpose benefits you and how you can find yours!
Ways Seniors Can Lower Heating Costs in the Winter
Looking for ways you can lower your heating bill this winter? You're in luck because you can without compromising comfort!
The latest from Ritter's Blog:
What to Do If Your Clients Can No Longer Afford Their Permanent Life Insurance Premiums
Are your clients struggling to pay their permanent life insurance premiums? They have options other than letting their policies lapse! Here's how you can help them salvage their benefits.
Medicareful 2020 Year-in-Review: Here's What We Accomplished
Selling Medicare plans? You've probably heard of Medicareful. We're reviewing what this free Medicare quoting software helped agents accomplish in 2020 and how it set itself apart from other online Medicare sales tools!
In the insurance industry, leads are what sustain your business. Of course, you need the contracts, training, and other skills to be a successful insurance agent, but without leads, you'll just be spinning your wheels.
Subscribe & Follow:
Connect on social: