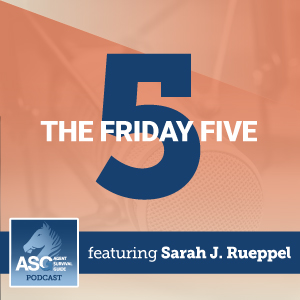 The Friday Five for May 7, 2021:
KFF Numbers on Healthcare Gross Margins
Prescription Drug Pricing Reform
Keep Going with SMART Goals
FCC Discount on Broadband Bills
Ritter's State of the Senior Market 2021
Mentioned in this episode:
Analysis Suggests Health Insurers Remained Profitable Across Markets Amid Pandemic in 2020
Democrats Disagree About How to Spend Potential Prescription Drug Windfall
Here's how you can apply to the FCC for the $50 discount on your broadband bill
House Republications push to make drug price legislation bipartisan
How to Successfully Set SMART Goals
Register for Ritter's State of the Senior Market 2021
You need to see this brilliant Gmail trick that everyone should be using
More episodes you'll like:
April 30, 2021 | The Friday Five
The Friday Five for April 30, 2021: CDC Updates Guidance on Outdoor Masking, Networking During a Pandemic, Modern Marketing Basics, Ritter's State of the Senior Market 2021, and Spotify Announces Podcast Subscriptions
The Pros and Cons of Selling Insurance
Becoming an insurance agent is a big decision. If you're thinking about joining the insurance industry, this is the episode for you! We weigh the pros and cons of selling insurance, so you'll have a better idea of what you're getting yourself into before you take that leap.
The Real Cost of Long-Term Care
Think your clients know all the costs associated with retirement? Learn more about the true cost of Long-Term Care so you can pass that knowledge – and peace of mind! – on to your clients.
Articles to Share with Your Clients:
Allergies are very common and can be a real drain on your quality of life. In worst cases, they can even be deadly. How can you go about life dealing with allergies?
What to Do After Getting the COVID Vaccine
You've gotten your second shot of the COVID vaccine (or first if it was Johnson & Johnson). What are some things that are important to do after you've gotten the COVID vaccine?
Why It's OK to Be Sad Sometimes
Sadness is a common emotion we all feel at some point, and often our response is to try to move on as quickly as possible. However, evidence points toward the importance of accepting your sadness and working through it.
The latest from Ritter's Blog:
Prospecting for Clients for Dental, Vision, and Hearing Insurance Sales
If you're considering selling dental, vision, and hearing (DVH) plans, where would you find leads? You might be surprised to learn that your DVH prospects could already be in your Medicare book of business!
How to Help Your Clients Get the Most Out of Their Medicare Advantage Plans
As an agent, you want to make sure your clients are getting the most out of their coverage. This means informing them of all the benefits their plans offer.
Medicare Isn't Just for Seniors: Selling to the Under-65 Market
Although many agents and insurers market Medicare toward senior citizens, they aren't the only people covered by this government program. In fact, more than eight million Medicare recipients are under the age of 65.
Subscribe & Follow:
Connect on social: