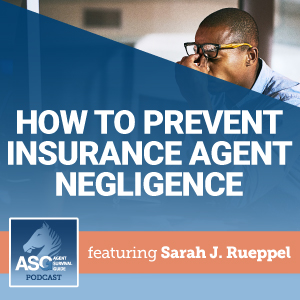 Compliance is an important part of selling insurance for agents to remember. But what about preventing negligence? In this episode, we define insurance agent negligence and offer some tips on how to prevent it from happening to you.
Mentioned in this episode:
Insurance Agent Negligence Claim
Insurance Agent Negligence or Misinterpretation
Medicare Supplements Fill the Gaps in Your Portfolio
Negligence and the Reasonable Person
What's New in the 2020 Medicare Communications and Marketing Guidelines?
What are the Elements of Negligence
More episodes you'll like:
Do's and Don'ts of Medicare Compliance
Need a recap on Medicare compliance this AEP? We break down the CMS Medicare Communications and Marketing Guidelines for insurance agents, including new compliance rules for 2021. We'll go over what's allowed — and what's not — in this updated episode of the ASG Podcast.
Why Go About Your Business in an Ethical, Compliant Fashion
Maintaining CMS compliance while selling Medicare is crucial to the success of your insurance business. But why? In this episode, we're answering that question a few different ways as we look at the "why" behind running a compliant insurance agency.
Why You Need to Make Time for Medicare Training (& Where to Find Great Resources)
Gaining knowledge through training is more than just a necessity. It's a strategy that helps you stand out from your competition and grow your insurance business.
Articles to Share with Your Clients:
Winter comes with its own unique driving concerns. If you're nervous about being on the road at this time of year, check out these winter driving safety tips!
Home Improvements for Seniors Aging in Place
As we get older, our needs at home change. If you're planning on aging in place, these are a few house modifications for seniors that can make home safe and comfortable.
The Coverage Rules for Medicare Part D Plans
You've come to rely on your Medicare Part D plan to give you coverage for your prescription drugs, but there are rules that govern this coverage and its limits. What are they?
The latest from Ritter's Blog:
In the insurance industry, leads are what sustain your business. Of course, you need the contracts, training, and other skills to be a successful insurance agent, but without leads, you'll just be spinning your wheels.
LTC Planning in a COVID World: Why It's Essential
Six months. It doesn't seem like a long time, until you're unexpectedly locked down, prohibited from seeing your family and friends, in a care facility that's now a potential COVID hotspot.
2021 Medicare Part A and Part B Premiums and Deductibles
CMS recently released their numbers for 2021 premiums, deductibles, and coinsurance amounts for the Medicare Part A and Part B programs. Let's see how these changes might affect your clients in the coming year.
Subscribe & Follow:
Connect on social: