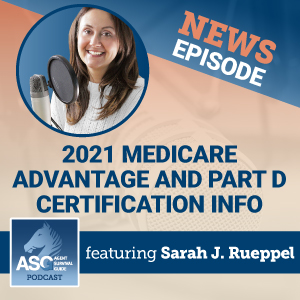 Looking for 2021 Medicare Advantage and Medicare Part D agent certification and product training details? Find out how to get carrier AHIP, Medicare Advantage certification, Part D certification, and product training details in one convenient place!
Mentioned in this episode:
Four Reasons Why Ritter Should Be Your FMO Insurance Agency
Register with Ritter Insurance Marketing
What is AHIP and Why Do You Need It?
More episodes you'll like:
July 3, 2020 | The Friday Five
The Friday Five for July 3, 2020: HHS and the COVID-19 Public Health Emergency; Anthem releases update to Alexa Skill; CVS launches platform to aid reopening efforts; How to cope with stress and anxiety right now; and Changes to Google Photos back up process
AHIP Test Tips & Tricks for Medicare Certification
Learn the rules for taking the AHIP test, information on discounts and reimbursement, how to prepare yourself, test-taking tips, legit tech hacks, and more! Before you begin your first attempt at AHIP certification, be sure to listen to this ASG Podcast episode!
How to Recruit Insurance Agents to Your Downline
Want to build a successful downline for your insurance business? Don't miss our best practices for recruiting agents to your agency! And be sure to check out the show notes for a link to grab your copy of our eBook – Developing an Agency – Your Guide to Getting Started.
How to Sell Medicare Advantage Plans – FREE Guide
Get ready to find out what selling Medicare Advantage is all about! Whether you're already an insurance agent selling Medicare or you're transitioning to MA sales, we want to help you build your career. Our eBook is packed with information on Medicare Advantage – certification, contracting, sales pitches, cross-selling tips, training, marketing, and more! Wondering who qualifies for MA plans or when you can enroll your clients? We answer those questions, and give you an AEP Ready-to-Sell Checklist, FAQs on AHIP, and info on enrolling clients online with Medicareful. Download your copy of our FREE eBook today!
Prepare for AEP with the Agent Survival Guide! The Annual Enrollment Period will be here before we know it! Use our checklist to plan ahead, and you'll be "ready-to-sell" with plenty of time to spare.
The latest from Ritter's Blog:
How to Check for Your First Looks
The moment when carrier First Looks become available is a very exciting time for insurance agents! It can put a spring in your step and help you get in the mood for the upcoming Annual Enrollment Period!
2021 Maximum Broker Commissions for Medicare Advantage & Medicare Part D
Ritter has everything you need to know about 2021 maximum broker commissions for Medicare Advantage and Medicare Part D initial enrollments. Note: Insurance providers are NOT REQUIRED to pay the maximum commission rate.
Reassuring Clients During Difficult Times
During times of uncertainty, like the COVID-19 pandemic, it is likely that your clients will look to you for reassurance, and answers. Are you prepared to provide the support they are seeking?
Subscribe & Follow:
Connect on social: