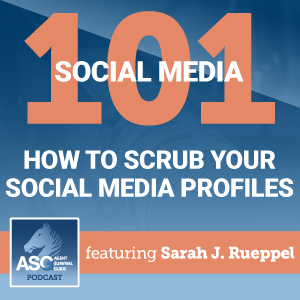 What does your online activity say about you? How about your insurance business? If you've never scrubbed your social media profiles or Googled yourself, this episode is a must-listen!
Mentioned in this episode:
7 steps to take when scrubbing your social media presence, according to branding and PR experts
8 Easy Ways to Clean Up Your Social Media (Because Hiring Managers Really Do Look at It)
Disqus – Remove and Edit Your Comments
How to Clean Up Your Old Social Media Posts
How to Clean Up Your Social Media Accounts Without Deleting Them
The Complete Social Media Clean Up Checklist
More episodes you'll like:
Insurance Agents & CMS Compliance | Apple | Google | Spotify
Stay compliant with the CMS Medicare Communications and Marketing Guidelines — even while on social media. We outline the best practices for insurance agents to follow while using social media.
Social Media Privacy Tips for Insurance Agents | Apple | Google | Spotify
Online privacy is a big deal. You want to use social media to market your insurance business. How do you protect yourself and your clients? We've got some best practices and a link to a very informative eBook that's free to download. Listen to find out more!
Internet Forums & Insurance Agents | Apple | Google | Spotify
Discover the power of forums. We unpack it all, how to get started, what you should post, etiquette rules, and more!
Articles to Share with Your Clients:
I'm Ready for Social Media: Which Platform is Right for Me?
Social media use has many benefits to seniors. But, which social media platform is right for you? We take a brief look at the four largest, analyzing the pros and cons of each.
Why Seniors Should Avoid Isolation
Feeling alone can be painful. When that feeling controls your life, it becomes a debilitating condition known as social isolation. If you're a senior, knowing the signs and how to prevent it can be life-saving.
Why Seniors Are Flocking to Social Media
We keep discovering benefits that social media use has for Americans over 65. Studies have shown that it can aid seniors both physically and mentally. With that in mind, if you're not online, you should be.
The latest from Ritter's Blog:
In the insurance industry, leads are what sustain your business. Of course, you need the contracts, training, and other skills to be a successful insurance agent, but without leads, you'll just be spinning your wheels.
LTC Planning in a COVID World: Why It's Essential
Six months. It doesn't seem like a long time, until you're unexpectedly locked down, prohibited from seeing your family and friends, in a care facility that's now a potential COVID hotspot.
2021 Medicare Part A and Part B Premiums and Deductibles
CMS recently released their numbers for 2021 premiums, deductibles, and coinsurance amounts for the Medicare Part A and Part B programs. Let's see how these changes might affect your clients in the coming year.
Subscribe & Follow:
Connect on social: