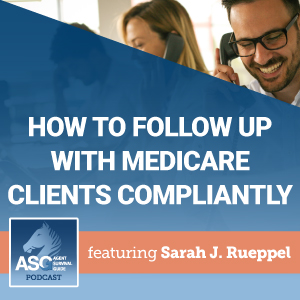 Think your job as an agent is complete after the sale? Not so fast. We whole-heartedly believe that the fortune is found in the follow-up! If you're not sure how to follow up with your clients, listening to this episode is a great place to start.
Mentioned in this episode:
2019 Medicare OEP: You Never Get a Second Chance to Make a First Impression
Four Reasons Why Ritter Should Be Your FMO Insurance Agency
Building Client Loyalty: More than Just a Plan
Definitive Guidelines for the New Open Enrollment Period
Download the Ritter Fact-Finder!
How Medicare Helps Your Clients Stay Healthy
How to Get Started in Medicare Sales
Humana Ignite 3-30-60-90 Conversation Guide
What is a Medicare Wellness Visit?
What's New in the 2020 Medicare Communications and Marketing Guidelines
Ritter Insurance Marketing eBooks & Guides:
Agent Survival Kits: Beginners or Experts
A Quick Guide to Cross-Selling Ancillary Insurance with Medicare Products
Developing an Agency – Your Guide to Getting Started
How to Host a Successful Medicare Educational Event
Modern Medicare Marketing for Today's Agents
Social Media Marketing for Insurance Agents
The Complete Guide on How to Sell Final Expense Insurance
The Complete Guide on How to Sell Medicare Advantage Plans
The Complete Guide on How to Sell Medicare Supplements
The Complete Guide to Client Loyalty and Retention
Your Step-By-Step Guide to Getting Started in Insurance Sales
More episodes you'll like:
3 Easy Ways to Build Your Insurance Territory
Maximize your reach and grow your selling territory! We outline the best practices for insurance agents to follow.
Best Practices for Writing an Email to Your Insurance Clients
Write emails with confidence! We outline the best (and easy to implement!) practices for insurance agents to use when emailing clients.
How Client Retentions Boosts Your Insurance
Master the art of treating your client as the renewal, not their policy. Learn why building relationships with your current clients is more beneficial (and cost effective!) than courting new ones.
How Medicare Helps Your Clients Stay Healthy
Did you know that Medicare is about more than just those moments when your clients are sick? Learn more about the health and wellness side of selling insurance.
Working with New Medicare Clients in Poor Health
Don't let a client's not-so-great medical history scare you away! Learn how to walk them through their options to find the Medicare coverage that fits their needs and budget.
Articles to Share with Your Clients:
3 Signs You Should Go to the Doctor
Many people don't like going to their doctor, for a variety of reasons. But there are a few signs you shouldn't ignore that indicate when it's time to see the doctor and get checked.
Cookbooks vs. Cooking Books: What's the Difference?
If you're looking to improve your cooking, there are options you can try at home. Among these are cookbooks and cooking books. You may be surprised by the difference between the two.
We talk a lot about what Medicare costs to use, but not how the benefits are financed. Here's how Medicare is funded, and how we each help ensure enrollees receive affordable health care.
The latest from Ritter's Blog:
Why Insurance Agents Fail (& How Not To!)
There are many reasons why insurance agents may "fail" or not be as successful as they originally set out to be. Let's discuss some of those obstacles, and how to overcome them!
Ritter is More Than Medicare & Our New Team Brand Shows Why
When selling Medicare Advantage and Medicare Supplement policies, it's important to remember that More than Medicare products are the missing pieces of the puzzle.
Medicare Advantage Trial Rights Explained for Agents
If you have a client who enrolled in a Medicare Advantage plan but wants to go (back) to Original Medicare, they may qualify for a Medicare Advantage trial right! This would allow them to update their coverage outside of the Annual Enrollment Period.
Subscribe & Follow:
Connect on social: