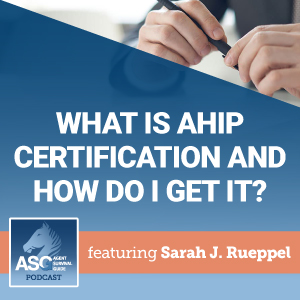 Get the details on AHIP requirements, how certification works for insurance agents, ways to find discounts, and more. If you're getting ready for AEP, you don't want to miss this episode of the Agent Survival Guide Podcast!
Frequently Asked Questions about AHIP:
[5:56.086] Do I need to pass AHIP if I already passed last year?
[6:34.257] Do I need to complete the AHIP training review questions?
[6:55.029] How many attempts at the AHIP test do I get?
[7:15.357] How long must I take between failed attempts?
[7:41.793] Do I have to take AHIP directly through their website?
[8:07.803] Do I have to take the training on a computer?
[8:23.557] How much does AHIP cost?>
[8:32.321] Can I get an AHIP certification discount?
[9:04.170] Is it possible to get a $125 AHIP reimbursement?
[10:20.844] Is there a deadline to pass AHIP to sell in 2022?
[10:39.696] Is AHIP an open-book test?
[10:48.254] Is AHIP a timed test?
[11:06.595] What score do I need to pass?
[11:15.187] How much should I prepare?
Mentioned in this episode:
AHIP Medicare + Fraud, Waste, and Abuse (MFWA) Training Site
America's Health Insurance Plans (AHIP) Description
Find Your Ritter Sales Specialist
Important 2022 AHIP Certification Training Updates You Should Know
Register for your FREE RitterIM.com account
Ritter's Carrier Certification Info
More episodes you'll like:
AHIP Test Tips & Tricks for Medicare Certification
Learn the rules for taking the AHIP test, information on discounts and reimbursement, how to prepare yourself, test-taking tips, legit tech hacks, and more! Before you begin your first attempt at AHIP certification, be sure to listen to this ASG Podcast episode!
How to Check for Your First Looks
Get your First Looks and get ready to succeed this AEP! In this episode, we talk carrier first looks, how to find them on the Ritter platform, and what you can do with the info you learn!
How to Recruit Insurance Agents to Your Downline
Want to build a successful downline for your insurance business? Don't miss our best practices for recruiting agents to your agency! And be sure to check out the show notes for a link to grab your copy of our eBook – Developing an Agency – Your Guide to Getting Started.
Largest COLA In a Decade Projected & How It Affects Part B Premiums
What does the annual Cost of Living Adjustment (COLA) look like for 2022? Does the COLA impact Medicare Part B premiums? What about inflation, and Social Security Income? We cover it all in this info-packed episode!
Maximum Broker Commissions for Medicare Advantage & Medicare Part D
CMS recently released the 2022 maximum broker commissions for Medicare Advantage and Medicare Part D. Find out the dollar amounts you could receive for writing MA and PDP business this AEP.
Articles to Share with Your Clients:
Cookbooks vs. Cooking Books: What's the Difference?
If you're looking to improve your cooking, there are options you can try at home. Among these are cookbooks and cooking books. You may be surprised by the difference between the two.
FDA Approves First Alzheimer's Drug Since 2003
The Food & Drug Administration has approved the first Alzheimer's disease drug in almost twenty years, but with it has come controversy.
What Certifications & Training Does a Medicare Sales Agent Need?
Trust is essential in any relationship, especially one with someone who's supposed to help you find a Medicare plan. Luckily, agents who sell Medicare plans must complete specific certifications and trainings!
Ritter Insurance Marketing eBooks & Guides:
Agent Survival Kits: Beginners or Experts
Modern Medicare Marketing for Today's Agents
The Complete Guide on How to Sell Medicare Advantage Plans
The Complete Guide to Client Loyalty and Retention
Your Step-By-Step Guide to Getting Started in Insurance Sales
The latest from Ritter's Blog:
2022 Maximum Broker Commissions for Medicare Advantage & Medicare Part D
For the seventh year running, CMS has increased the maximum broker commissions for both Medicare Advantage and Part D initial enrollments and continued the growth of maximum Medicare broker commissions for 2022 renewals.
How to Check for Your First Looks
The moment when carrier First Looks become available is a very exciting time for insurance agents! It can put a spring in your step and help you get in the mood for the upcoming Annual Enrollment Period!
2021 State of the Senior Market: In Review
Craig Ritter, CEO of Ritter Insurance Marketing, recently gave his annual State of the Senior Market address to 412 agents, who attended from all across the U.S.
Subscribe & Follow:
Connect on social: