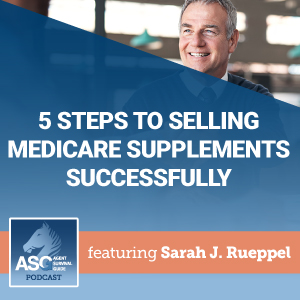 Build your Medicare portfolio with our Med Supp sales tips! We walk you through the process of getting started, from finding the carrier info you need to helping you get contracted and ready-to-sell. Medicare Supplement sales success can be yours!
Mentioned in this episode:
9 Tips to Submitting an Error-Free Application
Finish Work Faster Using e-Apps
Medicare Supplements Fill the Gaps in Your Portfolio
When Do Med Supp Plans K, L, M, & N Make Sense?
The Complete Guide on How to Sell Medicare Supplements
More episodes you'll like:
How to Write a Medicare Supplement Call Script That Really Works
Selling Medicare Supplements over the phone? Now is a great time to rework your current Med Supp call script! We outline the best practices to follow while working Medigap leads.
What to Know When Replacing Existing Med Supp Plans for Clients
Learn how to switch your client's Medigap plans. We unpack it all, from why your clients might want to switch Med Supps, to the free look period and everything in between.
Using e-Apps to Work From Home
COVID-19 has changed the way we currently do business. Learn how technology can help mitigate the space between how you used to sell insurance and the "new normal" we've found ourselves in.
The latest from Ritter's Blog:
How You Can Sell Insurance in Your State During COVID-19
We've gathered information regarding your state's stance on in-person sales during the COVID-19 pandemic, as well as information about applying for unemployment benefits as a self-employed worker. We are encouraging all agents to take advantage of using our virtual tools, such as Medicareful, to continue to successfully communicate with clients – remotely!
2020 State of the Senior Market: In Review
Craig Ritter, president of Ritter Insurance Marketing, once again gave his annual State of the Senior Market address, but this year, with a little twist. Rather than one long webinar, his address was broken into a four-part video series. We took the highlights from each episode and put them all in one place - this article!
How to Successfully Set SMART Goals
Setting goals is a great way to keep your business on track with a clear path ahead. We recommend setting goals at the beginning of each plan year to help you flourish in the year to come.
Subscribe & Follow:
Connect on social: