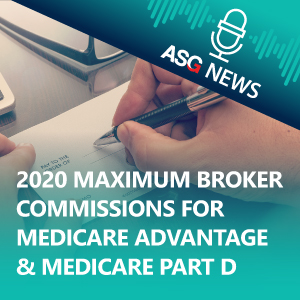 CMS recently released the 2020 maximum broker commissions for Medicare Advantage and Medicare Part D. Find out the dollar amounts you could receive for writing MA and PDP business this AEP.
More episodes you'll like:
2020 Medicare Advantage & Part D Certification Info
Looking for 2020 Medicare agent certification and product training details? Learn how you can find carrier AHIP, Medicare Advantage certification, Part D certification, and product training details in one convenient place!
2020 Medicare Part A & B Premiums & Deductibles
CMS just announced the 2020 Medicare Part A and B premiums and deductibles. Find out what the cost of Medicare will be for your clients in the coming year.
What's New in the 2020 Medicare Communications and Marketing Guidelines?
Make sure you're compliant with the latest CMS Medicare Communications and Marketing Guidelines. We've got news on the 2020 MCMG that you won't want to miss.
The latest from Agent Survival Guide:
4 Perks of Partnering with an FMO
As an insurance agent, do you ever feel like you need some help? This industry has many moving parts and it can be difficult to keep track of everything yourself. Luckily, there...(read more)
Insights on Medicare Genetic DNA Testing Fraud
If you get an email proposing you can make big bucks from taking a couple DNA swabs from Medicare beneficiaries, is it too good to be true? Chances are that...(read more)
The Latest on 2020 AHIP Certification
AHIP removed their 2019 Medicare and Fraud, Waste, and Abuse (FWA) trainings on Friday, June 14. They launched 2020 AHIP certification on Monday, June 17. Many carriers will allow you to use...(read more)
Subscribe & Follow:
Connect on social: