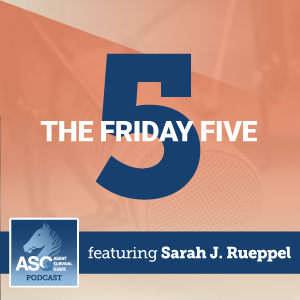 The Friday Five for August 14, 2020:
More Executive Orders
Microsoft & TikTok
Twitter's Newest Feature
Kroger to take on Amazon, Walmart
The Ultimate Work From Home Guide
Mentioned in this episode:
Does Trump's Executive Order Mean There's No $1,200 Second Stimulus Check Coming?
'Fresh Prince of Bel-Air' Drama Reboot in the Works
Kroger launching web marketplace rivaling Walmart, Amazon
Payroll Tax Delay To Boost Take-Home Pay, But Don't Spend It Yet
Taxes, VPNs and Office Hours – The Ultimate Forbes Guide to Working from Home
TikTok is either Microsoft's 'poisoned chalice,' next big thing, or easy-money scheme
Twitter is finally helping people shut out "reply guys"
Bonus! Sarah's WFH Setup:
As promised! This is where I spend most of my days. 😉 WFH days, that is. 
Meet Jinx. She leaps into my chair the moment I get up, and may or may not be plotting world domination. 😹
More episodes you'll like:
August 7, 2020 | The Friday Five
The Friday Five for August 7, 2020: Healthy Hacks for the Drive-Thru; Large Coffee, Hold the Calories; Pandemic Productivity Hacks; How to Ask For Referrals; and Self-Care During the COVID-19 Pandemic.
Are Your Marketing Materials Compliant?
Are you following the rules for marketing Medicare plans? We're sharing the answers to frequently asked compliance questions to help you ensure you stay on good terms with CMS.
Methods to Boost Your Medicare Business
Optimize your Medicare insurance business with help from our FMO – Ritter Insurance Marketing! Our strategies generate leads and sales. Find out how you can apply these tips just in time for AEP success.
The latest from Ritter's Blog:
Each summer, Ritter Insurance Marketing hosts the annual Summits, where insurance agents can receive an exclusive first look at the next year's Medicare Advantage and Part D plan offerings. This year, we're hosting our Summits a little differently.
When Do Med Supp Plans K, L, M, & N Make Sense?
Do you tend to place clients in Medicare Supplement Plans C, D, F, or G? While it's true these Med Supps cover the most out-of-pocket costs, never overlook Plans K, L, M, and N.
5 Tips for Using Medicareful to Sell More Medicare Plans
Medicareful gives agents the potential to double or triple their capacity to safely engage prospects and enroll clients! How can you maximize your site and Medicare sales? To start, request your free Medicareful page here!
Subscribe & Follow:
Connect on social: