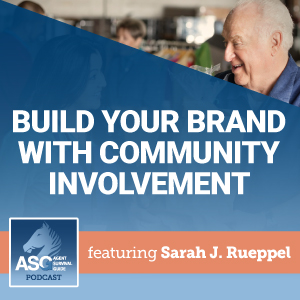 Connect with your local community and grow your insurance business at the same time! Use our helpful tips to get started.
Mentioned in this episode:
About Community Outreach Programs
Building Client Loyalty: More Than Just a Plan
How Community Involvement Programs Can Grow Your Business
Methods to Boost Your Medicare Business
More episodes you'll like:
November 20, 2020 | The Friday Five
The Friday Five for November 20, 2020: Amazon Pharmacy; Pfizer and BioNTech COVID-19 Vaccine; A Zoom Thanksgiving?; TikTok Rolls Out Parental Controls; Thanksgiving Desserts (and BONUS: sides!)
How Selling Insurance Helps Give Back
In the insurance industry, there's plenty of opportunities to give back. Discover how agents make a difference in their communities every day, and how you can, too! 
Tips on Working with a Difficult Client
Ever have a difficult client? Check out our tips on how to work through three frustrating (but common!) situations insurance agents face in the field. We've got some advice on when to walk away, too.
Articles to Share with Your Clients:
Being Together When You're Apart
Social isolation can be very dangerous for seniors' mental and physical health. What are some ways you can stay connected while practicing social distancing?
Getting Creative with Thanksgiving Classics: Cranberry Sauce
Cranberry sauce is one of the must-have traditional sides at Thanksgiving each year, but it's often loaded with sugar. By getting a little creative, we can fix that!
How to Speed Up a Cold Recovery
While the cure for the common cold hasn't been found yet, there are ways to make your recovery from it as speedy as possible. Here are a few ways you can get over a cold faster when you're feeling ill.
The latest from Ritter's Blog:
2021 Medicare Part A and Part B Premiums and Deductibles
CMS recently released their numbers for 2021 premiums, deductibles, and coinsurance amounts for the Medicare Part A and Part B programs. Let's see how these changes might affect your clients in the coming year.
Navigating Insurance Sales During the Medicare AEP & COVID
You need commissions, but you don't want to catch, or spread, COVID. Can you compliantly check temperatures or ask health questions in person? Will more carriers allow remote Medicare sales? How can you have a profitable Annual Enrollment Period during the current health crisis?
How to Get Started in Medicare Sales
Starting out as an insurance agent in the Medicare industry can seem daunting. There are many ins and outs of selling Medicare and quite a list of things you need to decide and do.
Subscribe & Follow:
Connect on social: