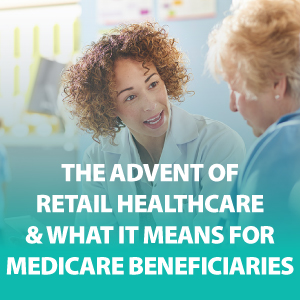 Retail healthcare is on the rise in the United States. But what exactly is it? And, how does it affect Medicare beneficiaries? Consider this your primer on all things retail healthcare.
Mentioned in this episode:
Amazon, Berkshire Hathaway, JPMorgan Chase health care venture launches website and announces its name: Haven
Anthem Announces Collaboration with Walmart
Best Buy snaps up health services company GreatCall for $800M
CVS and Aetna Merger Officially Complete
CVS turning 1,500 stores into HealthHUB locations with less retail, more health care
Can Retail Clinics Improve Patient Access, Reduce Costs for Payers?
Does Medicare Cover Telehealth Services?
Google parent company invests $375 million in Oscar Health
Healthcare Innovation is Retail 101
How Medicare Helps Your Clients Stay Healthy
It's Flu Season! Should You Get a Flu Shot?
Medicare Advantage And The Future of Value-Based Care
'Minute Clinics' Increasingly Popular Among Elderly Americans
Oak Street Health can Humana Expand Availability of Value-Based Care in Pennsylvania
The Future of Healthcare Looks a Lot Like Retail
Top Insurers Move to Bring PBM Partners In-House
Two Years After Amazon Deal, Whole Foods Is Still Working To Shed Its 'Whole Paycheck' Image
Walgreens And Humana Expand Senior Clinic Venture To More Markets
Walgreens and Novant Health announce retail health care collaboration in North Carolina
Walgreen MedExpress Urgent Care
Walgreens Retail Healthcare Clinic
Walmart, Anthem partner on Medicare program
Walmart's First Healthcare Services 'Super Center' Opens
What's Behind the Surge in Retail Healthcare Deals?
What is the Difference Between Urgent Care, Retail Health Clinics?
What's to Keep Amazon from Competing in Brick-and-Mortar Healthcare? Not much
More episodes you'll like:
5 Reasons Clients Switch Medicare Plans During AEP | ASG 178
The Annual Enrollment Period isn't just for new Medicare enrollees. It's also the time to review your current clients' Medicare coverage to see if switching plans could be beneficial. Start by learning the five reasons why enrollees switch their Medicare plans during AEP.
Tips on Working with a Difficult Client | ASG180
Ever have a difficult client? Check out our tips on how to work through three frustrating (but common!) situations insurance agents face in the field. We've got some advice on when to walk away, too.
Be Prepared to Discuss Medicare Telehealth Coverage This AEP | ASG187
Are you prepared to talk about Medicare telehealth this AEP? Whether you call it telemedicine, telecare, or a virtual visit, this benefit is growing in popularity. Learn how your clients can utilize this benefit, which beneficiaries are most likely to access it, and more!
November 15, 2019 | The Friday Five
The Friday Five for November 15, 2019: CMS announced 2020 Medicare Part A and B Premiums and Deductibles, The Social Security COLA for 2020, Whoop closed series D funding round, Google's Project Nightingale under investigation, and Nike broke up with Amazon.
The latest from Agent Survival Guide:
Halfway Through AEP: Reflect & Renew Your Medicare Sales Strategies
November 10 marks the halfway point for the 2020 Annual Enrollment Period! If you're selling Medicare products, now's the time to reflect on your success during the first few weeks and recharge... (read more)
5 Major Things to Expect in the Medicare Advantage Market for 2020
Spoiler alert: With the way the market's looking for 2020, we feel confident saying now's a FANTASTIC time to be selling Medicare Advantage (MA) plans. Here's why. The Kaiser Family Foundation (KFF),... (read more)
Why You Need to Make Time for Medicare Training (& Where to Find Great Resources!)
It's the Annual Enrollment Period, the busiest time of the year if you're a Medicare agent! More sales translate into more money. And we all know time is money, so the more... (read more)
Subscribe & Follow:
Connect on social: