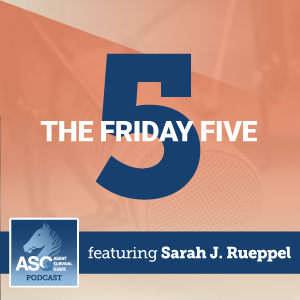 We don't just make a podcast, we love listening to them, too! Despite 2020 effectively cancelling her commute, our host Sarah listened to over 7,000 minutes of podcast audio. Which shows made it into her top 5 for 2020? Listen to find out in this bonus Friday Five episode!
Mentioned in this episode:
Episode 402 – Instant Grammification
Episode 420 – The Lost Cities of Geo
A Fantasy of Fashion: Articles of Interest #7
Knockoffs: Articles of Interest #8
Perfume: Articles of Interest #9
Suits: Articles of Interest #10
Diamonds: Articles of Interest #11
Wedding Dresses: Articles of Interest #12
Denim Wars – Start with Cowboys & Indigos
Starbucks vs. Dunkin – Start with A Steamy Culture Clash
TikTok vs. Instagram – Start with Codename
TikTok vs. Instagram – The TikTok Effect (Interview with NYT's Taylor Lorenz)
Dolly Parton's America – Start with Sad A** Songs
The Missing Cryptoqueen – Start with Episode 1: Dr. Ruja
Six Minutes – Start with Six Minutes Begins
More episodes you'll like:
International Podcast Day 2020
Happy International Podcast Day! 2020 has certainly been a year to, er, remember. There's a lot of that reflected in this year's episode. But there's also a fair bit of fun. Sarah shares it all in this episode – podcast recommendations, standout episodes, updates, bonus content, and more, including what makes her want to listen.
Podcast Recommendations for Summer 2020
Summer is here! 🌞 That means it's time for MORE podcast recommendations! If you need something to listen to during a long drive, while you're on a vacation, staycation, or just walking around the neighborhood after dinner… Sarah has 10 new podcast recommendations for your listening enjoyment.
Podcasts We're Currently Listening To
Need more podcast recommendations? (Who doesn't?!) For our last Friday Five of 2019, Sarah gives you a glimpse of what she's currently listening to.
Articles to Share with Your Clients:
Does Medicare Cover COVID Testing?
Does Medicare cover COVID testing? It's an important question to be answered, since testing can give you peace of mind and help slow the spread of the pandemic.
Radio on the Internet: Top Podcasts for Seniors
Radio shows are making a comeback in the form of podcasts, and there are a lot to choose from. Here are a few we recommend checking out!
Which is Correct: Storing Butter In or Out of the Fridge?
There's been a quiet debate raging for some time about one of the most common ingredients in the kitchen — butter. Should you store butter in the fridge or on the counter?
The latest from Ritter's Blog:
Does Your Medicare Sales Approach Satisfy Different Budgets?
We all know the saying, "money doesn't grow on trees." Many people have limited incomes, but you can help them with budgeting for a Medicare plan to afford the health care they may need.
In the insurance industry, leads are what sustain your business. Of course, you need the contracts, training, and other skills to be a successful insurance agent, but without leads, you'll just be spinning your wheels.
What is AHIP Certification and How Do I Get It?
You have your leads in hand and your contracts signed, so you're ready to sell, right? Well… almost. Did you complete your AHIP certification yet?
Subscribe & Follow:
Connect on social: