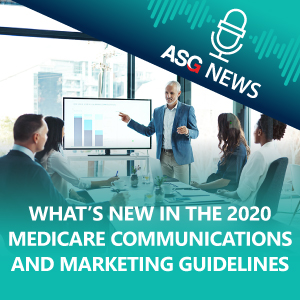 Make sure you're compliant with the latest CMS Medicare Communications and Marketing Guidelines. We've got an update on the 2020 MCMG that you don't want to miss. Read the text version.
More episodes you'll like:
Are Your Marketing Materials Compliant? | ASG121
Are you following the rules for marketing Medicare plans? We're sharing the answers to frequently asked compliance questions to help you ensure you stay on good terms with CMS.
How to Get Started in Insurance Sales
Making a career change isn't an overnight decision. Deciding on a career isn't either! Want to know what it takes to become an insurance agent? Our free guide outlines the whole process so you can make an informed choice and get started selling insurance with ease.
Insurance Agents & CMS Compliance | Social Media 101
Stay compliant with the CMS Medicare Communications and Marketing Guidelines — even while on social media. We outline the best practices for insurance agents to follow while using social media.
Top 10 Podcast Apps | Agent Apps
Which podcast app is the best? Do you listen on the number one app or a different one? What features are you missing out on? In the premiere episode of our newest series, Agent Apps, we explore the top 10 podcast listening apps and the features that make each one unique.
The latest from Agent Survival Guide:
Four Reasons Why Ritter Should By Your FMO Insurance Agency
As a field marketing organization (FMO), Ritter Insurance Marketing strives to provide you with tools and knowledge that'll help you thrive in this industry. If you're already partnered with Ritter, we're glad... (read more)
Organization Tips and Tricks for AEP
The Annual Enrollment Period can be very stressful, but you don't need to worry. We've laid out some tips and tricks on how to stay organized, so AEP can be a breeze... (read more)
The Hidden Value of Selling Medicare Supplements During AEP
While it's true the Annual Enrollment Period is the prime time to sell Medicare Advantage plans, selling Medicare Supplements provides you and your clients a very important alternative during the fall. How... (read more)
Subscribe & Follow:
Connect on social: