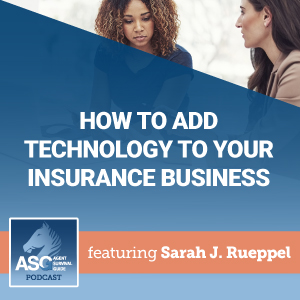 Need to bring technology into your business? Not sure where to begin? Start by listening to this episode! We'll help you revamp your insurance sales process.
The Ritter Platform – Learn more about the combined AMS & CRM functionality and other features!
Mentioned in this episode:
27 ways to MOTIVATE shoppers who research online to buy
Key Findings for the 2018 Insurance Barometer Study
Mobile Vs. Desktop Usage (Latest 2019 Data)
Online Shopping and E-Commerce
Sell More Medicare Plans Online with Medicareful
Social Media Marketing for Insurance Agents eBook
Why Client Retention Should be Your Top Priority
More episodes you'll like:
4 Reasons Why Ritter Should Be Your FMO Insurance Agency
Looking for an FMO? Not sure what a field marketing organization like Ritter Insurance Marketing can do for your insurance business? Learn everything you need to know in this can't-miss episode of the ASG Podcast!
Guiding Your Agency Through COVID-19
It's an unprecedented time. COVID-19 has shut down businesses small and large, and if you're wondering how to run your business during a pandemic, you are not alone. How can your insurance agency continue to help clients and stay productive amidst the coronavirus pandemic? We've got some insight that might help.
Insurance Agents & CMS Compliance
Stay compliant with the CMS Medicare Communications and Marketing Guidelines — even while on social media. We outline the best practices for insurance agents to follow while using social media.
Social Media Privacy Tips for Insurance Agents
Online privacy is a big deal. You want to use social media to market your insurance business. How do you protect yourself and your clients? We've got some best practices. Listen to find out more!
Which podcast app is the best? Do you listen on the number one app or a different one? What features are you missing out on? In the premiere episode of our newest series, Agent Apps, we explore the top 10 podcast listening apps and the features that make each one unique.
The latest from Ritter's Blog:
How You Can Sell Insurance In Your State During COVID-19
Many states have issued "stay-at-home" orders in response to the COVID-19 pandemic. We wanted to provide you with new information regarding whether agents in your state may still complete in-person sales appointments. We are encouraging all agents to take advantage of using our virtual tools, such as Medicareful, to continue to successfully communicate with clients – remotely!
Guiding Your Agency Through COVID-19
The COVID-19 virus has effectively changed the way the United States operates for the foreseeable future. With business closures and travel restrictions, the potential to harm small businesses like insurance agencies is obvious and potentially devastating. But, with the right combination of planning and flexibility — and a dash of help from your friendly FMO — it doesn't have to derail your agency's productivity.
Ritter and Carrier Operations During the COVID-19 Pandemic
The COVID-19 virus has effectively changed the way the United States operates for the foreseeable future. A compilation of information from the carriers Ritter supports regarding their capacity to continue operations during the COVID-19 pandemic.
2020 State of the Senior Market: In Review
Craig Ritter, president of Ritter Insurance Marketing, once again gave his annual State of the Senior Market address, but this year, with a little twist. Rather than one long webinar, his address was broken into a four-part video series. We took the highlights from each episode and put them all in one place - this article!
How to Successfully Set SMART Goals
Setting goals is a great way to keep your business on track with a clear path ahead. We recommend setting goals at the beginning of each plan year to help you flourish in the year to come.
What Agents Can't Say During Medicare Sales Appointments
The Centers for Medicare & Medicaid Services have some strict rules on what agents can and cannot say during Medicare sales appointments, but pulling them out of the dense Medicare Communications and Marketing Guidelines (MCMG) can be tough and time-consuming. Here are some examples to help simplify things!
Subscribe & Follow:
Connect on social: