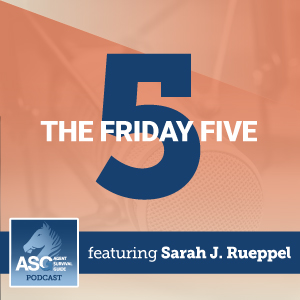 The Friday Five for July 2, 2021:
Third Installment of CMS Proposed Rule 2022
Update on Attempts to add DVH to Medicare
Walmart & Novo Nordisk partner in new effort
How to take a mental health day
How to block and report text spam
Mentioned in this episode:
CMS Proposed Rule to Increase Americans' Access to Health Coverage for 2022
EXPLAINER: Dental, vision and hearing benefits for Medicare
Everything Coming to Netflix, Disney+, HBO Max, Hulu & Amazon Prime Video in July 2021
How to block and report text spam
How to know when you need a mental health break and ways to make the most of it
Walmart teams with Novo Nordisk to launch private brand analog insulin
More episodes you'll like:
June 25, 2021 | The Friday Five
In this episode: KFF Medicare Advantage in 2021 studies, How CVS helps cut wasteful consumer spending, DVH benefits possibly coming to Medicare, American Rescue Plan Child Tax Credit info, and the Never Less, Never More strategy.
Podcast Recommendations for Summer 2021
Did someone say summer 2021 podcast recommendations? Back by popular demand, Sarah has 10 more podcast recommendations to fill the void in your summer vacation. Whether you're taking a family vacation, staycation, traveling back into the office, or just need something new to listen to, we've got you covered! 🌞😎🎧
NAHU 2022 Medicare Certification Training
NAHU's Medicare training certification is back for 2022. We talk about what's new with NAHU Medicare, Medicare Advantage, and compliance requirements training for the 2022 AEP.
What is AHIP Certification and How Do I Get It?
Get the details on AHIP requirements, how certification works for insurance agents, ways to find discounts, and more. If you're getting ready for AEP, you don't want to miss this episode of the Agent Survival Guide Podcast!
Maximum Broker Commissions for Medicare Advantage & Medicare Part D
CMS recently released the 2022 maximum broker commissions for Medicare Advantage and Medicare Part D. Find out the dollar amounts you could receive for writing MA and PDP business this AEP.
Articles to Share with Your Clients:
Camping is the perfect trip of the COVID era. It's outside, socially-distanced, and still fun. Make sure your trip is safe and fun with these camping tips for seniors looking to return to nature!
Limiting Charges and Excess Charges in Medicare
Limiting charges and excess charges are connected concepts with Medicare, but the link can be confusing. What are they and how do they affect your costs in Medicare?
The chemical monosodium glutamate is a surprisingly controversial one. What's the truth behind MSG, and is it really that bad for you?
Ritter Insurance Marketing eBooks & Guides:
Agent Survival Kits: Beginners or Experts
How to Host a Successful Medicare Educational Event
The Complete Guide on How to Sell Prescription Drug Plans
The latest from Ritter's Blog:
AHIP Test Tips and Tricks for Medicare Certification
Planning on taking the AHIP Medicare training test for the first time? You don't have to stress! We've put together a list of tips and tricks for passing AHIP that will help you, and even more experienced agents, improve your chances of getting AHIP certified on the first try!
3 Benefits of Contracting to Sell Medicare Advantage Plans Outside of AEP
Anyone in the Medicare industry is familiar with the rush to prepare for the Annual Enrollment Period. What if you could take care of a key sales task before AEP ramps up?
NAHU 2022 Medicare Certification Training
Like AHIP, NAHU is back offering a Medicare certification training for agents who'd like to sell 2022 Medicare Advantage and Part D products for the Annual Enrollment Period. NAHU's 2022 certification is now open!
Subscribe & Follow:
Connect on social: