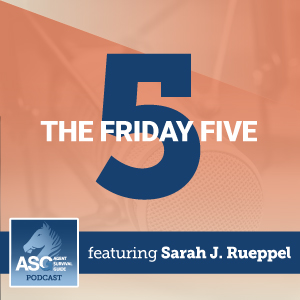 The Friday Five for June 4, 2021:
The Medicare Plan Finder reviewed
CMS and Medicaid value-based price agreements
Amazon pharmacy rumors
How Medicare works on vacation
Twitter news and rumors
Mentioned in this episode:
Amazon is considering building physical pharmacies
Amazon Prime Day starts June 21. Here's how to find the best deals
Apple Launches WWDC 2021 Live Stream on YouTube in Preparation for June 7 Keynote
CMS delays requirement for drugmakers to offer multiple best prices for Medicaid value-based deals
Medicare on the Go: How My Plan Works on Vacation
Premium Twitter Blue subscription launch looks imminent
The Medicare Plan Finder: Still A Work In Progress
Twitter is once again taking your requests for a blue verification badge
Twitter To Introduce 3-tier Labelling System To Combat Misinformation, Here's What It Is
More episodes you'll like:
May 28, 2021 | The Friday Five
The Friday Five for May 28, 2021: New CMS Admin confirmed, State of Medicare Advantage 2021, retirement bill reintroduced, Noom hopes to expand, and Facebook, Instagram announce new feature.
How to Recruit Insurance Agents to Your Downline
Want to build a successful downline for your insurance business? Don't miss our best practices for recruiting agents to your agency! And be sure to check out the show notes for a link to grab your copy of our eBook – Developing an Agency – Your Guide to Getting Started.
Prospecting for Clients for Dental, Vision, and Hearing Insurance Sales
Where can insurance agents find leads for DVH sales? We outline five prospecting tips for selling dental, vision, and hearing insurance.
Articles to Share with Your Clients:
COVID-Safe Ways to Stay Connected with Your Grandkids
The relationship many grandparents share with their grandkids is a highlight of their lives, and the separation due to the COVID-19 pandemic has been difficult. What are some COVID-safe ways you can keep connected?
Allergies are very common and can be a real drain on your quality of life. In worst cases, they can even be deadly. How can you go about life dealing with allergies?
Basil is one of the most versatile herbs, but you can lose a lot of its benefits if you prepare or cook it wrong. Here's how you can get the most out of using basil in your cooking!
The latest from Ritter's Blog:
4 Ways to Fund Long-Term Care: Hybrid Insurance
Financially savvy individuals know it's always smart to include potential long-term care expenses in a retirement budget. How exactly can your clients finance long-term care? Hybrid long-term care insurance (LTCi) is a fantastic feasible solution, but how can they fund that?
2021 State of the Senior Market: In Review
Craig Ritter, CEO of Ritter Insurance Marketing, recently gave his annual State of the Senior Market address to 412 agents, who attended from all across the U.S.
Advertising Medicare Through Facebook
In a world where social distancing has become the norm, we've all turned to social media to stay connected with others. Why not advertise Medicare on social media and grow your insurance business digitally?
Subscribe & Follow:
Connect on social: