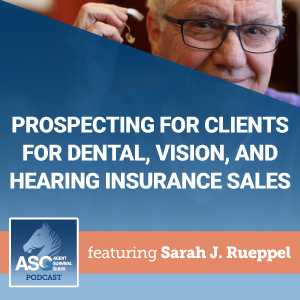 Where can insurance agents find leads for DVH sales? We outline five prospecting tips for selling dental, vision, and hearing insurance.
Mentioned in this episode:
4 Steps to Selling Dental, Vision, and Hearing Insurance
5 Prospecting Tips for Selling Dental, Vision, and Hearing
5 Steps to Selling Medicare Supplements Successfully
5 Tips for Selling Medicare Advantage Plans
6 Health Services Not Covered by Medicare
Four Ancillary Cross-Sales to Show Clients You Care
Keeping Teeth Strong & Healthy At Any Age
Learn More About the Ritter Platform
Register with Ritter Insurance Marketing
Ritter Can Help You Stay in Touch with Your Clients
Ritter's Medicare Quote Engine
Ritter's More than Medicare Team
Secure a Bigger, Better Business with Ancillary Products
Sense Success with Dental, Vision, and Hearing Plans
More episodes you'll like:
4 Steps to Selling Dental, Vision, and Hearing Insurance
Not sure how to show your clients the benefits of dental, vision, and hearing insurance products? In this episode of the ASG Podcast, we walk you through the process of selling DVH insurance plans from start to finish. Don't forget to visit the show notes for a full list of Ritter's free DVH sales resources.
Getting Started Selling Dental, Vision, and Hearing Insurance
Want to increase your insurance sales and your commissions? Learn how adding DVH insurance to your sales portfolio can open up those opportunities! Consider this your primer on dental, vision, and hearing insurance products.
How to Follow up with Medicare Clients Compliantly
Think your job as an agent is complete after the sale? Not so fast. We whole-heartedly believe that the fortune is found in the follow-up! If you're not sure how to follow up with your clients, listening to this episode is a great place to start.
Articles to Share with Your Clients:
Does Medicare Cover Hearing Aids?
Millions of Americans suffer from hearing loss, but hearing aids can be extremely costly. Does Medicare cover hearing aids or are there other ways to make them more affordable?
Reusing Risotto to Make Delicious Arancini
Risotto is delicious, but it's easy to make too much and have plenty leftover. What if you could turn this into something amazing? Turn that leftover risotto into a delicious arancini!
What to Do If Your Medicare Card is Lost or Stolen
Knowing what to do if your Medicare card is lost or stolen is important. Luckily, getting a replacement Medicare card is easy. Here's how to get a new Medicare card!
Ritter Insurance Marketing eBooks & Guides:
Agent Survival Kits: Beginners or Experts
A Quick Guide to Cross-Selling Ancillary Insurance with Medicare Products
The Complete Guide to Client Loyalty and Retention
The latest from Ritter's Blog:
Advertising Medicare Through Facebook
In a world where social distancing has become the norm, we've all turned to social media to stay connected with others. Why not advertise Medicare on social media and grow your insurance business digitally?
How to Help Your Clients Get the Most Out of Their Medicare Advantage Plans
As an agent, you want to make sure your clients are getting the most out of their coverage. This means informing them of all the benefits their plans offer.
Medicare Isn't Just for Seniors: Selling to the Under-65 Market
Although many agents and insurers market Medicare toward senior citizens, they aren't the only people covered by this government program. In fact, more than eight million Medicare recipients are under the age of 65.
Subscribe & Follow:
Connect on social: