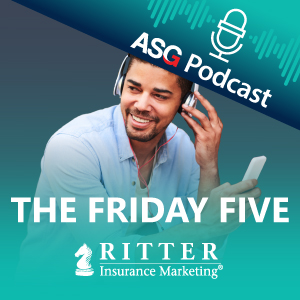 The Friday Five for November 8, 2019:
That Walgreen's buyout
2020 rates and income brackets
Google planning to buy Fitbit
Ritter Insurance Marketing webinars for the week of November 11, 2019
All the new content on AgentSurvivalGuide.com!
AND a quick tangent down the rabbit hole of holiday coffee. ☕ #sorrynotsorry
Mentioned in this episode:
Apple and Fitbit numbers show smartwatches turning into a winner-take-all market
A Walgreens Leveraged Buyout? Don't Hold Your Breath.
Ritter's Ancillary 101 Webinar
Ritter's Final Expense 101 Webinar
Google to acquire Fitbit, valuing the smartwatch maker at about $2.1 billion
Here are your new income tax brackets for 2020
Peppermint takeover: Seasonal holiday coffee returns to US chains
Walgreens Buyout Optimism Fades
Walgreens explores going privates in what could be largest LBO in history
Walgreens shares resume trading after being halted (Video)
Why shares of Walgreens Spiked Today
More episodes you'll like:
Tips on Working with a Difficult Client | ASG180
Ever have a difficult client? Check out our tips on how to work through three frustrating (but common!) situations insurance agents face in the field. We've got some advice on when to walk away, too.
5 Reasons Clients Switch Medicare Plans During AEP | ASG178
The Annual Enrollment Period isn't just for new Medicare enrollees. It's also the time to review your current clients' Medicare coverage to see if switching plans could be beneficial. Start by learning the five reasons why enrollees switch their Medicare plans during AEP.
November 1, 2019 | The Friday Five
The Senate voted on the Trump Administration rule on short-term care insurance
Mark Bertolini, former CEO of Aetna, talks fixing health care
Interest rate changes
Facebook's new health tool
Highlights from the Kaiser Family Foundation Medicare Advantage 2020 Spotlight First Look
The latest from Agent Survival Guide:
5 Major Things to Expect in the Medicare Advantage Market for 2020
Spoiler alert: With the way the market's looking for 2020, we feel confident saying now's a FANTASTIC time to be selling Medicare Advantage (MA) plans. Here's why. The Kaiser Family Foundation (KFF)... (read more)
Why You Need to Make Time for Medicare Training (& Where to Find Great Resources!)
It's the Annual Enrollment Period, the busiest time of the year if you're a Medicare agent! More sales translate into more money. And we all know time is money, so the more... (read more)
Value-Based Care for Medicare Enrollees Is the Future
All of us want our doctors to actually care about our health, not to just fill their patient quota for the day. Well, the government wants that too, for their own reasons... (read more)
Be Prepared to Discuss Medicare Telehealth Coverage This AEP
It's the Annual Enrollment Period and that means meetings, meetings, and more meetings! While you're together with clients, there's a good chance at least one will ask you about telehealth. What is... (read more)
The Pros and Cons of Selling Insurance
Thinking of joining the insurance industry? Great idea! We think it's a rewarding career path to pursue. If you're still on the fence, this article is to help you weigh the practical... (read more)
Subscribe & Follow:
Connect on social: