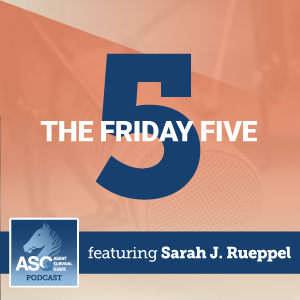 The Friday Five for September 25, 2020:
Walmart Testing Drone Delivery
Social Security Outflow 2021
Latest Microsoft Teams Updates
How Anxiety Affects You
Apple iOS14 & Productivity
Mentioned in this episode:
165 million Americans will witness a Social Security first in 2021
Hallmark Reveals Christmas Movie Schedule for 2020
Here's What's New to Stream in October on Netflix, Hulu, Amazon, Disney+, and More
How to customize your iPhone's home screen with widgets and app icons
Microsoft Teams will add breakout rooms and automated meeting recaps
The 5 Best New Productivity Features in iOS 14
This Is How Your Anxiety Is Hurting Your Health
Updates in iOS14's Apple Podcasts app
Walmart piloting drone delivery for COVID-19 self-swab kits
More episodes you'll like:
September 18, 2020 | The Friday Five
The Friday Five for September 18, 2020: Aetna care kits, Cigna introduces Evernorth, Anthem, Apple, and UCI team up for health study, the latest from the Federal Reserve, and mental health tips from a former Monk.
What Can MAPD Insurance Agents Do Prior to AEP?
How can you prepare for the Medicare Annual Enrollment Period? What can you do before October 15th? What can't you do? Listen to find out!
5 Tips for Using Medicareful to Sell More Medicare Plans
Get the tool that can help you sell more Medicare plans - Medicareful! These are just some of the highlights – Electronic  PTC and SOA in one, Quote and enroll clients remotely, and Store client prescription drug info in the Ritter Platform. Learn more and get your own FREE Medicareful site today!
The latest from Ritter's Blog:
How to Use the New Medicare Plan Finder and FAQs
As the Annual Enrollment Period approaches, it's important to be aware of changes affecting the tools and resources you use and understand how to navigate through any updates.
4 Steps to Finding the Perfect PDP for Your Client
One vital tool that we recommend every agent become familiar with is our new Drug Cost Estimator within the Ritter Platform. Knowing the tool exists is one thing, but making it work for you and your clients is another.
How Does a Hospital Indemnity Plan Work with Medicare? A Case Study
Meet Grace — a 65-year-old woman with a Medicare Advantage plan. Though her plan is great, it leaves her with a copay of $250 per day for the first five days of an inpatient hospital stay. Should you recommend that she buy a hospital indemnity plan?
Subscribe & Follow:
Connect on social: