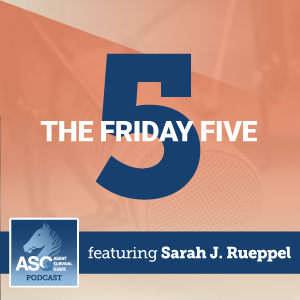 The Friday Five for September 18, 2020:
Aetna Care Kits
Cigna introduces Evernorth
Anthem, Apple, and UCI team up for health study
The latest from the Federal Reserve
Mental Health Tips from a former Monk
Mentioned in this episode:
Aetna ships Caring for You kits to millions of Medicare members
Anthem Announces Research Study with Apple Watch to Help Improve Asthma Management
Cigna to rebrand health services business line as Evernorth
CVS signs on with Apple's new Fitness+ service
Federal Reserve press release 9/16/2020
Fed sees interest rates near zero until end of 2023, sets new economic conditions to be met before raising rates
This Quick Morning Ritual Is The Perfect Way to Start Your Day, Says This Former Monk
More episodes you'll like:
September 11, 2020 | The Friday Five
The Friday Five for September 11, 2020: Better Medicare Alliance MA Data Brief, CBO outlook on Medicare Hospital Insurance trust fund, Medicaid expansion as a ballot referendum, Aetna & Landmark Health team up, and a pandemic stimulus update.
4 Ancillary Cross-Sales to Show Clients You Care
Ready to get started cross-selling? What products can you cross-sell with Medicare? Build up your insurance portfolio with our list of must-have ancillary products!
5 Tips for Selling Medicare Advantage Plans
Ready to rock your Medicare Advantage sales goals this AEP? Learn five ways you can make this Annual Enrollment Period your most successful yet. Our tips can help you grow your commissions and your book of business.
Learn How to Cross-Sell Ancillary Insurance with Medicare Products
Ready to boost your Medicare business? Increase your sales commissions and improve client retention at the same time, all without additional certifications. Learn about the power of cross-selling and how you can get started today!
Why Go About Your Business in an Ethical, Compliant Fashion?
Maintaining CMS compliance while selling Medicare is crucial to the success of your insurance business. But why? In this episode, we're answering that question a few different ways as we look at the "why" behind running a compliant insurance agency.
The latest from Ritter's Blog:
How to Prepare for AEP Like a Pro
>With Annual Enrollment Period quickly approaching, it's a good idea to make sure you're fully prepared and ready to sell. By following these steps, you'll be ready by October 15.
How to Prevent Insurance Agent Negligence
As an insurance agent, you know by now how important it is to remain compliant. While following the Medicare Communications and Marketing Guidelines should be one of your top priorities, there is something else you'll want to keep on your radar that you may have not yet considered: preventing insurance agent negligence.
Ritter Acquires Maryland-Based Secure Benefits Alliance
Ritter Insurance Marketing today announced the purchase of Secure Benefits Alliance (SBA), a Maryland-based health and life benefits agency. In order to expand and strengthen Ritter's growing footprint, this deal will bring SBA agents into the Ritter fold, providing them with cutting-edge technology and support through Ritter's service platform.
Subscribe & Follow:
Connect on social: