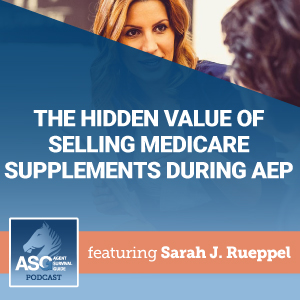 AEP is about more than just Medicare Advantage. Don't miss out on sales because you're missing the product your client wants. Learn why Med Supps make a crucial addition to your insurance portfolio, whether it's Annual Enrollment or not.
Mentioned in this episode:
2020 Medicare Supplement Changes Will Introduce Two New Eligibility Groups
Contact the Team at Ritter Insurance Marketing
Cure Your Clients' Needs with a PDP
Defining the True Value of $0 Premium for Medicare Advantage Plans
Download our eBook – The Complete Guide on How to Sell Medicare Supplements
Finish Work Faster Using e-Apps
How Medicareful Helps You Sell Ancillary Products
How to Save Your Clients Money on Prescription Drugs
Learn about Ritter's 100K Giveaway!
Medicare for Snowbirds, Sunbirds, & Travel Enthusiasts
Medicare Supplements Fill the Gaps in Your Portfolio
Med Supp Underwriting Fast Facts PDF
Part D late enrollment penalty
Prepare for Upcoming Medicare Supplement Changes
What is a Medicare Select Plan?
More episodes you'll like:
2020 Medicare Supplement Changes Will Introduce Two New Eligibility Groups
Med Supp changes are coming for 2020. Get all the facts about the two new Med Supp eligibility groups here, like what they are, who falls into each group, which plans you can sell to clients in each group, and more, in this can't-miss episode.
Getting Started Selling Medicare Supplements
Take your insurance sales to the next level with Medicare Supplements! Discover why Medigap plans make such a great addition to your selling portfolio. 
How to Write a Medicare Supplement Call Script That Really Works
Selling Medicare Supplements over the phone? Now is a great time to rework your current Med Supp call script! We outline the best practices to follow while working Medigap leads.
What to Know When Replacing Existing Med Supp Plans for Clients
Learn how to switch your client's Medigap plans. We unpack it all, from why your clients might want to switch Med Supps, to the free look period and everything in between. Read the text version.
When Do Med Supp Plans K, L, M, & N Make Sense?
Take a closer look at Medicare Supplement Plans K, L, M, and N. Learn more about how these specific Medigap plans work and the ideal clients for each type.
The latest from Ritter's Blog:
Each summer, Ritter Insurance Marketing hosts the annual Summits, where insurance agents can receive an exclusive first look at the next year's Medicare Advantage and Part D plan offerings. This year, we're hosting our Summits a little differently.
5 Tips for Using Medicareful to Sell More Medicare Plans
Medicareful gives agents the potential to double or triple their capacity to safely engage prospects and enroll clients! How can you maximize your site and Medicare sales? To start, request your free Medicareful page here!
Why Being a Likable Agent Is Good for Your Business
How you present yourself as an agent can make or break your business. You may think, "It doesn't matter what other people think of me," which in some ways is true. But when it comes to how people view you professionally, their opinions do matter.
Subscribe & Follow:
Connect on social: