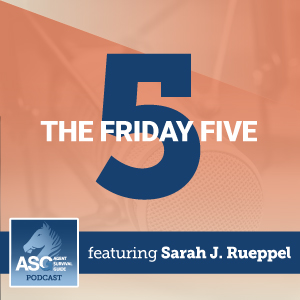 The Friday Five for April 16, 2021:
FWA and COVID-19
CMS proposals and Biden's health agenda
One vaccine for all coronaviruses?
Identifying your "natural market"
What exactly is an NFT?
Mentioned in this episode:
3 major health items included in Biden's budget request
AHIP Marketing MA + FWA Training Site
A Surprising Vaccine Rival May Upset the Dreams of Anyone Holding Moderna and Pfizer Stock
Buy This Column on the Blockchain! Why can't a journalist join the NFT party, too?
CMS proposes 2% pay bump for rehab, psychiatric facilities
Fraud, waste and abuse in health care claims: A bad situation worsened by the pandemic
How to Build Out Your Natural Market
The Daily: Cryptocurrency's Newest Frontier
Today, Explained: WTF is an NFT?
Spotify's Car Thing debuts as a limited release for selected US users
More episodes you'll like:
April 9, 2021 | The Friday Five
The Friday Five for April 9, 2021: AHIP Revamping Training Site, President Biden Moves Up Vaccine Deadline, Medicare COVID-19 Data Snapshot Update, Managing Mental Health & Wellness, and New Spotify Features.
4 Perks of Partnering with an FMO
What is a field marketing organization? Why should insurance agents partner with an FMO? If you've been debating joining an FMO, you don't want to miss this episode! 
9 Tips to Submitting an Error-Free Application
Avoid commissions and coverage delays on your Medicare applications! The secret? Writing clean applications that won't get flagged during the submissions process – and we've done the research for you! Use the 9 helpful tips we outline in this episode to start writing cleaner applications!
Articles to Share with Your Clients:
Simple Exercises for a Rainy Day
You want to get fit for the summer, but it's ugly outside and you're stuck inside. Don't fret! We've got an effective HIIT workout using simple exercises for a rainy day.
Garlic is one of those ingredients that is omnipresent in most cuisines of the world. Why is it so popular, and how can you go about cooking with garlic?
What to Do After Getting the COVID Vaccine
You've gotten your second shot of the COVID vaccine (or first if it was Johnson & Johnson). What are some things that are important to do after you've gotten the COVID vaccine?
The latest from Ritter's Blog:
Important 2022 AHIP Certification Training Updates You Should Know
The 2022 AHIP Medicare training season starts on June 21, 2021. Before you begin to complete this obligation, there are changes to the Marketing Medicare Advantage and Fraud, Waste and Abuse training that you need to be aware of.
The Basics of Selling Insurance from Home
Your client base is in a different state, your country's fighting a pandemic, or you just like working from home. Whatever the reason, you want to start running your insurance business remotely.
Discover the Details of Fraternal Benefit Society
Within the world of insurance there are fraternal benefit societies. If you're not familiar with these groups, there are untapped benefits for you and your clients that go way beyond insurance coverage and commissions!
Subscribe & Follow:
Connect on social: