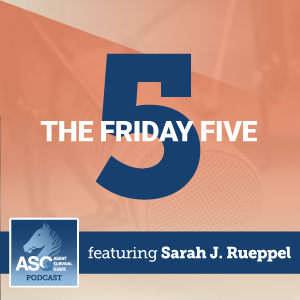 The Friday Five for July 17, 2020:
Aetna and Give an Hour partnership
Oak Street Health News
Possibility for Medicare Expansion in Next Covid-19 Stimulus?
Zoom Announces New Product
Ritter Summits 2020:
8/24: New Jersey Summit
8/25: NYC Summit
8/26: Philadelphia Summit
8/27: Harrisburg Summit
9/1: Georgia Summit
9/2: Greater NY Summit
9/3: Maryland Summit
9/9: California Summit
9/10: Florida Summit
Mentioned in this episode:
Aetna, Give an Hour team up to offer free counseling to frontline health workers
Google is adding 117 new emoji in Android 11 coming this fall – see them all
Oak Street Health Continues Nationwide Expansion, Announces New York and Mississippi by End of 2020
Oak Street Health files for IPO
Register to Attend Ritter's Virtual Summits
The 17 Hidden Emoji Secrets You Never Noticed
These Medicare changes may be included in the next coronavirus package
Zoom introduces all-in-one home communications appliance for $599
More episodes you'll like:
July 10, 2020 | The Friday Five
The Friday Five for July 10, 2020: CMS Proposed Rule on End-Stage Renal Disease (ESRD) Prospective Payment System (PPS); AHIP's State of Medigap 2020; Capital Rx teaming up with Walmart; Walmart debuts Walmart Insurance Services, LLC; and Walgreens and VillageMD announce partnership.
NEW: NAHU 2021 Medicare Certification Training
NAHU just launched a brand-new Medicare certification training for agents selling Medicare Advantage and Medicare Part D for the 2021 Annual Enrollment Period. Find out the details on this alternative to AHIP Medicare certification, including pros and cons, NAHU vs. AHIP, and more!
FAQs About NAHU Medicare Certification
Got questions about NAHU's Medicare Advantage and Part D certification training? We've got answers! In this episode, we talk about the cost of NAHU certification, CE credits, training module topics, and more – you don't want to miss it!!! 
The latest from Ritter's Blog:
2021 Maximum Broker Commissions for Medicare Advantage & Medicare Part D
Ritter has everything you need to know about 2021 maximum broker commissions for Medicare Advantage and Medicare Part D initial enrollments. Note: Insurance providers are NOT REQUIRED to pay the maximum commission rate.
Ritter and Carrier Operations During the COVID-19 Pandemic
The COVID-19 virus has effectively changed the way the United States operates for the foreseeable future. A compilation of information from the carriers Ritter supports regarding their capacity to continue operations during the COVID-19 pandemic.
Here Are the Medicare Out-of-Pocket Expenses That Cost Beneficiaries Most
Do you know what your Medicare clients likely spend the most money on out of pocket? Do your clients know what out-of-pocket costs they can expect with Medicare? The stats are in!
Subscribe & Follow:
Connect on social: