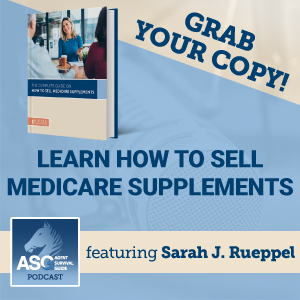 Use these tips to get started selling Med Supp or enhance your existing strategies! Our Medicare Supplement eBook covers everything you need to know; the basics, marketing, lead gen, ideal clients, competitive plans, compliance rules, 2020 changes, and more! Bonus materials include phone scripts, an underwriting flow chart, and plan comparison table!  
More episodes you'll like:
Getting Started Selling Medicare Supplements
Take your insurance sales to the next level with Medicare Supplements! Discover why Medigap plans make such a great addition to your selling portfolio.
How to Write a Medicare Supplement Call Script That Really Works
Selling Medicare Supplements over the phone? Now is a great time to rework your current Med Supp call script! We outline the best practices to follow while working Medigap leads.
What to Know When Replacing Existing Med Supp Plans for Clients
Learn how to switch your client's Medigap plans. We unpack it all, from why your clients might want to switch Med Supps, to the free look period and everything in between.
When Do Med Supp Plans K, L, M & N Make Sense?
Take a closer look at Medicare Supplement Plans K, L, M, and N. Learn more about how these specific Medigap plans work and the ideal clients for each type.
The latest from Ritter's Blog:
How You Can Sell Insurance In Your State During COVID-19
Many states have issued "stay-at-home" orders in response to the COVID-19 pandemic. We wanted to provide you with new information regarding whether agents in your state may still complete in-person sales appointments. We are encouraging all agents to take advantage of using our virtual tools, such as Medicareful, to continue to successfully communicate with clients – remotely!
Guiding Your Agency Through COVID-19
The COVID-19 virus has effectively changed the way the United States operates for the foreseeable future. With business closures and travel restrictions, the potential to harm small businesses like insurance agencies is obvious and potentially devastating. But, with the right combination of planning and flexibility — and a dash of help from your friendly FMO — it doesn't have to derail your agency's productivity.
Ritter and Carrier Operations During the COVID-19 Pandemic
The COVID-19 virus has effectively changed the way the United States operates for the foreseeable future. A compilation of information from the carriers Ritter supports regarding their capacity to continue operations during the COVID-19 pandemic.
2020 State of the Senior Market: In Review
Craig Ritter, president of Ritter Insurance Marketing, once again gave his annual State of the Senior Market address, but this year, with a little twist. Rather than one long webinar, his address was broken into a four-part video series. We took the highlights from each episode and put them all in one place - this article!
How to Successfully Set SMART Goals
Setting goals is a great way to keep your business on track with a clear path ahead. We recommend setting goals at the beginning of each plan year to help you flourish in the year to come.
What Agents Can't Say During Medicare Sales Appointments
The Centers for Medicare & Medicaid Services have some strict rules on what agents can and cannot say during Medicare sales appointments, but pulling them out of the dense Medicare Communications and Marketing Guidelines (MCMG) can be tough and time-consuming. Here are some examples to help simplify things!
Subscribe & Follow:
Connect on social: