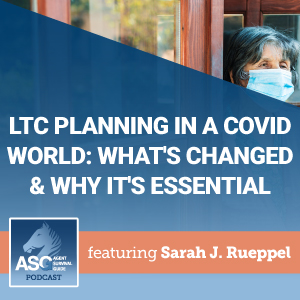 What does long-term care planning look like these days? How has the pandemic affected the industry? Find out what independent insurance agents should know in this can't-miss episode of our Agent Survival Guide Podcast.
Mentioned in this episode:
4 Out-of-the-box Long-Term Care Insurance Solutions
4 Ways to Fund Long-Term Care: Hybrid Insurance
A Quick Guide to Cross-Selling Ancillary Insurance with Medicare Products
Cost of Care Trends & Insights
Covid-19 Reinforces Need for Long-Term Care Planning
FAQs About Coronavirus and Long-Term Care Insurance
Guidance for Infection Control and Prevention of Coronavirus Disease 2109 (COVID-19) in Nursing Homes
Home Care May Not Be Cheaper than Assisted Living or a Nursing Home
Long-Term Care in America: Expectations and Preferences for Care and Caregiving
Nearly One-Third of U.S. Coronavirus Deaths are Linked to Nursing Homes
Pa. to resume nursing home visits, with restrictions
What is the Lifetime Risk of Needing and Receive Long-Term Services and Supports?
What You Need to Know About 1035 Exchanges
Why Client Retention Should Be Your Top Priority
Why Seniors Should Avoid Isolation
More episodes you'll like:
Are You Offering Multiple LTC Insurance Options?
Ready to offer more Long-Term Care insurance products in your portfolio? Learn the benefits and distinctions of each LTC insurance option – and how these products can boost your sales.
Do You Have What it Takes to Be a Great Insurance Agent?
Searching for a new career? Get the details on becoming an insurance agent and learn why the industry could be your next career move!
Identifying Ideal Long-Term Care Insurance Clients
Get to know the characteristics of Long-Term Care insurance buyers. Use these tips to comb through your book of business and find potential sales you might be missing out on!
The Pros and Cons of Selling Insurance
Becoming an insurance agent is a big decision. If you're thinking about joining the insurance industry, this is the episode for you! We weigh the pros and cons of selling insurance, so you'll have a better idea of what you're getting yourself into before you take that leap.
The Real Cost of Long-Term Care
Think your clients know all the costs associated with retirement? Learn more about the true cost of Long-Term Care so you can pass that knowledge – and peace of mind! – on to your clients.
Articles to Share with Your Clients:
Allergies are very common and can be a real drain on your quality of life. In worst cases, they can even be deadly. How can you go about life dealing with allergies?
What are Plant-Based Milk Alternatives?
There are many plant-based milk alternatives out there, and you may be wondering why. Is it worth trying a milk substitute?
What Are the Different Types of Nursing Homes and Care Facilities?
You've probably heard of nursing homes, but did you know that there are other kinds of residential care facilities? Today, we're exploring the different types of nursing homes and senior care facilities!
The latest from Ritter's Blog:
Prospecting for Clients for Dental, Vision, and Hearing Insurance Sales
If you're considering selling dental, vision, and hearing (DVH) plans, where would you find leads? You might be surprised to learn that your DVH prospects could already be in your Medicare book of business!
How to Help Your Clients Get the Most Out of Their Medicare Advantage Plans
As an agent, you want to make sure your clients are getting the most out of their coverage. This means informing them of all the benefits their plans offer.
Medicare Isn't Just for Seniors: Selling to the Under-65 Market
Although many agents and insurers market Medicare toward senior citizens, they aren't the only people covered by this government program. In fact, more than eight million Medicare recipients are under the age of 65.
Subscribe & Follow:
Connect on social: