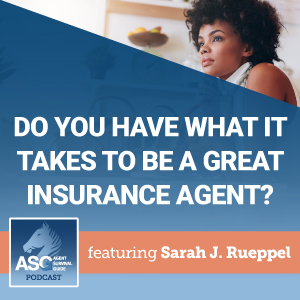 Searching for a new career? Get the details on becoming an insurance agent and learn why the industry could be your next career move!
Mentioned in this episode:
7 Habits of Highly Effective Insurance Agents
Methods to Boost Your Medicare Business
Selling Medicare Products – Why It's Definitely Worth Your While
Why Taking It Slow is Good for Business
Your Step-By-Step Guide to Getting Started in Insurance Sales
More episodes you'll like:
How Much Can Insurance Agents Make Selling Medicare?
Want to know how much money insurance agents can make selling Medicare? We talk commissions to give you a better idea of how lucrative expanding your portfolio into the senior market can be.
How Selling Insurance Helps Give Back
In the insurance industry, there's plenty of opportunities to give back. Discover how agents make a difference in their communities every day, and how you can, too!
Ready to Join an FMO? 10 Things to Consider
Thinking about partnering with an FMO? Wondering how you can tell the good from the bad? Our top 10 list outlines what you need to know before you partner with a field marketing organization.
Why College Grads Are Choosing to Become Insurance Agents
Graduating college soon? Looking for a career change? Becoming an independent insurance agent can give you the flexibility and financial stability you're looking for!
Why Now is the Time to Start Selling Insurance
Out of all the insurances out there... why sell health insurance?  We highlight four reasons to come down from the fence and over to the side of Medicare sales.
Articles to Share with Your Clients:
3 Fun Ways to Boost Your Cooking Creativity
Want to take your home cooking to the next level, but don't know how? Here are three challenges that will boost your kitchen creativity and give you hands-on lessons that are fun and inspiring.
What is the Medicare Part B Premium Giveback?
Medicare is affordable health care coverage for many, but some Medicare Advantage plans have what's called a Medicare Part B Premium Giveback. What does that mean for you?
What to Do After Getting the COVID Vaccine
You've gotten your second shot of the COVID vaccine (or first if it was Johnson & Johnson). What are some things that are important to do after you've gotten the COVID vaccine?
The latest from Ritter's Blog:
Important 2022 AHIP Certification Training Updates You Should Know
The 2022 AHIP Medicare training season starts on June 21, 2021. Before you begin to complete this obligation, there are changes to the Marketing Medicare Advantage and Fraud, Waste and Abuse training that you need to be aware of.
The Basics of Selling Insurance from Home
Your client base is in a different state, your country's fighting a pandemic, or you just like working from home. Whatever the reason, you want to start running your insurance business remotely.
Discover the Details of Fraternal Benefit Society
Within the world of insurance there are fraternal benefit societies. If you're not familiar with these groups, there are untapped benefits for you and your clients that go way beyond insurance coverage and commissions!
Subscribe & Follow:
Connect on social: