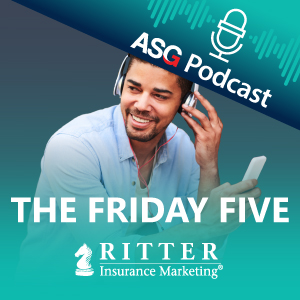 The Friday Five for November 22, 2019:
The Trump Administration announces Health Care Transparency Rules
Slack shares drop with Microsoft Teams user count report
Beware of 'Juice-Jacking' While Traveling
Instagram hides likes, Facebook next?
New and Coming Soon from the Agent Survival Guide team!
Mentioned in this episode:
7 Strategies to Prevent Rapid Disenrollments from Medicare Plans
Facebook tries hiding Like counts to fight envy
Facebook Trying Out Hidden Like Counts
New Trump rule to make more health care rates public
Slack stock falls after Microsoft boasts 20 million Teams users
Stop! Don't Charge Your Phone This Way
The best-case and worst-case scenarios for Trump's health care price transparency rule
Trump Administration Releases Transparency Rule in Hospital Pricing
Twitter CEO Jack Dorsey praised Facebook's experimental moves to hide Instagram 'likes'
Why You Should Think Twice About Plugging Into Public USB Power Stations
More episodes you'll like:
November 15, 2019 | The Friday Five
CMS announced 2020 Medicare Part A and B Premiums and Deductibles
The Social Security COLA for 2020
Whoop closes their series D funding round
Google's Project Nightingale now under investigation
Nike breaks up with Amazon
2020 Medicare Part A & B Premiums and Deductibles
CMS just announced the 2020 Medicare Part A and B premiums and deductibles. Find out what the cost of Medicare will be for your clients in the coming year.
Be Prepared to Discuss Medicare Telehealth Coverage This AEP
Are you prepared to talk about Medicare telehealth benefits this AEP? Whether you call it telemedicine, telecare, or a virtual visit, these benefits are growing in popularity. Learn how your clients can utilize them, which beneficiaries are most likely to access them, and more!
The Advent of Retail Healthcare & What It Means for Medicare Beneficiaries
Retail healthcare is on the rise in the United States. But what exactly is it? And, how does it affect Medicare beneficiaries? Consider this your primer on all things retail healthcare.
Tips on Working with a Difficult Client
Ever have a difficult client? Check out our tips on how to work through three frustrating (but common!) situations insurance agents face in the field. We've got some advice on when to walk away, too.
The latest from Agent Survival Guide:
2020 Medicare Part A and Part B Premiums and Deductibles
CMS just released their numbers for 2020 premiums, deductibles, and coinsurance amounts for the Medicare Part A and Part B programs. Let's take a look and see how these numbers might affect... (read more)
5 Major Things to Expect in the Medicare Advantage Market for 2020
Spoiler alert: With the way the market's looking for 2020, we feel confident saying now's a FANTASTIC time to be selling Medicare Advantage (MA) plans. Here's why. The Kaiser Family Foundation (KFF)... (read more)
What Agents Forget to Do When Preparing for Appointments
When you're thinking of everything you need to do to prepare for appointments this Annual Enrollment Period, be sure to think of things outside your memorized to-do list. Pens? Check. Scopes of... (read more)
Subscribe & Follow:
Connect on social: