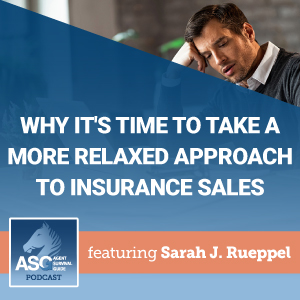 Is the hard sell making it harder for you to sell insurance? High-pressure tactics don't work like they used to. Find out what you can do differently and still make the sale.
Mentioned in this episode:
3 Tips to Put Your Customer in the Right Mindset to Make a Purchase
4 Tips for Making a Better Insurance Sales Pitch
5 Ways to Implement Education Based Marketing
7 Reasons Salespeople Don't Close the Deal
7 Strategies to Prevent Rapid Disenrollment from Medicare Plans
Active Listening in Sales: The Ultimate Guide
Adaptive Selling for Relationship Building
An Alternative to High Pressure Selling
A new understanding: what makes people trust and rely on the news
Best ways to sever ties with pushy insurance agent?
Don't Panic! Stress is Contagious
How Client Retention Boosts Insurance Sales
How Planking Became the Internet's Latest Bored Game
Pushy salespeople are the worst.
Stress symptoms: Effects on your body and behavior
The Complete Guide to Client Loyalty and Retention
The Sales Script Is (Mostly) Dead: 2 Tricks for Better Interactions
The Ugly Truth About Pushy Insurance Sales People
Why Being Happy Is Your Ticket to Being Healthier
Why Educational Content is Vital to Your Sales Team Success
Why Your Salespeople Should Be Trained Problem Solvers
More episodes you'll like:
April 16, 2021 | The Friday Five
The Friday Five for April 16, 2021: FWA and COVID-19, CMS proposals and Biden's health agenda, one vaccine for all coronaviruses, Identifying your "natural market", and what exactly is an NFT?
4 Steps to Selling Dental, Vision, and Hearing Insurance
Not sure how to show your clients the benefits of dental, vision, and hearing insurance products? In this episode of the ASG Podcast, we walk you through the process of selling DVH insurance plans from start to finish. Don't forget to visit the show notes for a full list of Ritter's free DVH sales resources.
9 Tips to Submitting an Error-Free Application
Avoid commissions and coverage delays on your Medicare applications! The secret? Writing clean applications that won't get flagged during the submissions process – and we've done the research for you! Use the 9 helpful tips we outline in this episode to start writing cleaner applications!
Articles to Share with Your Clients:
The Hidden Health Benefits of Bowling
Bowling isn't often thought of as a fitness option, but there are a surprising number of ways bowling can benefit your health and make you fitter and happier!
Garlic is one of those ingredients that is omnipresent in most cuisines of the world. Why is it so popular, and how can you go about cooking with garlic?
What to Do After Getting the COVID Vaccine
You've gotten your second shot of the COVID vaccine (or first if it was Johnson & Johnson). What are some things that are important to do after you've gotten the COVID vaccine?
The latest from Ritter's Blog:
Important 2022 AHIP Certification Training Updates You Should Know
The 2022 AHIP Medicare training season starts on June 21, 2021. Before you begin to complete this obligation, there are changes to the Marketing Medicare Advantage and Fraud, Waste and Abuse training that you need to be aware of.
The Basics of Selling Insurance from Home
Your client base is in a different state, your country's fighting a pandemic, or you just like working from home. Whatever the reason, you want to start running your insurance business remotely.
Discover the Details of Fraternal Benefit Society
Within the world of insurance there are fraternal benefit societies. If you're not familiar with these groups, there are untapped benefits for you and your clients that go way beyond insurance coverage and commissions!
Subscribe & Follow:
Connect on social: