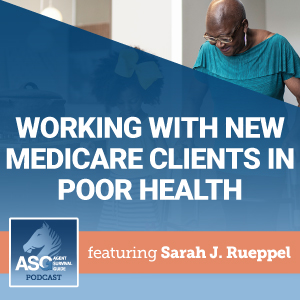 Don't let a client's not-so-great medical history scare you away! Learn how to walk them through their options to find the Medicare coverage that fits their needs and budget.
Mentioned in this episode:
CDC: Chronic Diseases in America
Defining the True Value of $0 Premium for Medicare Advantage Plans
Getting Started Selling Medicare Supplements
Medicare Advantage: CMS Should Use Data on Disenrollment and Beneficiary Health Status to Strengthen Oversight
Medicare Advantage Special Enrollment Periods
Medicare Supplement Plan G Costs 2020
Medigap Enrollment and Consumer Protections Vary Across States
The Beginner's Guide to C-SNPs
More episodes you'll like:
3 Easy Ways to Build Your Insurance Sales Territory
Maximize your reach and grow your selling territory! We outline the best practices for insurance agents to follow.
Medicare Advantage Trial Rights Explained for Agents
Learn more about the Medicare Advantage Trial Right Period. If you have a client who enrolled in Medicare Advantage but wants to go back to Original Medicare, they may qualify. Listen to find out more about how it works!
Secure a Bigger, Better Business with Ancillary Products
Ready to branch out from Medicare Advantage or Medicare Supplement Insurance sales? Learn how ancillary products can help you expand your reach and add more value to your portfolio.
Articles to Share with Your Clients:
I've Gotten the COVID Vaccine. Now What?
Once you've received the COVID-19 vaccine, you may be wondering what's next? Can you return to normal life? The answer is a little complex.
Start Your Green Thumb with a Windowsill Garden
If you've ever wanted a garden, but don't have the space or time, you're in luck! Growing a windowsill garden can make it both easier and more convenient to have a garden.
What is kefir? For something that's as easy to make or find, it's incredibly healthy — that's what it is!
The latest from Ritter's Blog:
Why Insurance Agents Fail (& How Not To!)
There are many reasons why insurance agents may "fail" or not be as successful as they originally set out to be. Let's discuss some of those obstacles, and how to overcome them!
Ritter is More Than Medicare & Our New Team Brand Shows Why
When selling Medicare Advantage and Medicare Supplement policies, it's important to remember that More than Medicare products are the missing pieces of the puzzle.
Medicare Advantage Trial Rights Explained for Agents
If you have a client who enrolled in a Medicare Advantage plan but wants to go (back) to Original Medicare, they may qualify for a Medicare Advantage trial right! This would allow them to update their coverage outside of the Annual Enrollment Period.
Subscribe & Follow:
Connect on social: