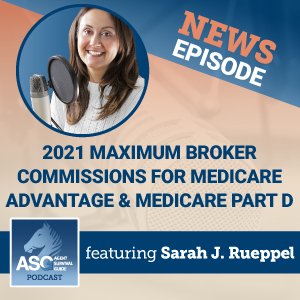 CMS recently released the 2021 maximum broker commissions for Medicare Advantage and Medicare Part D. Find out the dollar amounts you could receive for writing MA and PDP business this AEP.
More episodes you'll like:
4 Perks of Being a Part-Time Insurance Agent
Thinking about joining the ranks of insurance agents selling Medicare for a living? Not really sure if becoming a senior health insurance agent is the right career path for you? We get it! What if you could give it a practice run before giving up your full-time job? In this episode of the ASG Podcast, we discuss the benefits of starting out as a part-time insurance agent.
How to Sell Medicare Advantage Plans – FREE Guide
Get ready to find out what selling Medicare Advantage is all about! Whether you're already an insurance agent selling Medicare or you're transitioning to MA sales, we want to help you build your career. Our eBook is packed with information on Medicare Advantage – certification, contracting, sales pitches, cross-selling tips, training, marketing, and more! Wondering who qualifies for MA plans or when you can enroll your clients? We answer those questions, and give you an AEP Ready-to-Sell Checklist, FAQs on AHIP, and info on enrolling clients online with Medicareful.
June 5, 2020 | The Friday Five
The Friday Five for June 5, 2020: Getting Back to Preventive Care - What it looks like; CVS partners with Nuro; Google Sued for $5 Billion; Save the Dates - Ritter Summits Coming Soon; and New Medicare Advantage Sales eBook Available.
Prepare for AEP with the Agent Survival Guide! The Annual Enrollment Period will be here before we know it! Use our checklist to plan ahead, and you'll be "ready-to-sell" with plenty of time to spare.
What is AHIP and Why Do You Need It?
Learn more about AHIP requirements, how to get certified, and ways to find discounts on AHIP courses.
The latest from Ritter's Blog:
How to Check for Your First Looks
The moment when carrier First Looks become available is a very exciting time for insurance agents! It can put a spring in your step and help you get in the mood for the upcoming Annual Enrollment Period!
A Review of the Top Medicare Quote Engines for Insurance Agents
An agent selling Medicare products is only as good as the Medicare quoting tool they're using. We're looking at agents' top options for fast and reliable Medicare quoting software and what makes them so special.
Reassuring Clients During Difficult Times
During times of uncertainty, like the COVID-19 pandemic, it is likely that your clients will look to you for reassurance, and answers. Are you prepared to provide the support they are seeking?
Subscribe & Follow:
Connect on social: