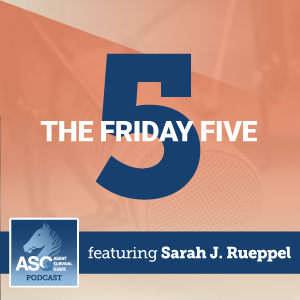 The Friday Five for October 16, 2020:
Medicare Advantage Carrier Recommendations for 2021
SSA announces COLA for 2021
Webinars for Insurance Agents selling Medicare
Ways to Quickly Relax
Recap from Apple's Hi, Speed Event
Mentioned in this episode:
2021 Social Security Changes (COLA Tables on SSA.gov)
5 Ways to Relax in Under 5 Minutes
Facebook Messenger gets a new logo and a fresh design
Get Your Medicare Advantage Sales Contracts Here – Recommendations for 2021
iPhone 12 with 5G, HomePod Mini and more: Everything apple just announced
Medicareful Affinity Partner Marketing with Jimmy Weber
Medicareful Overview with Jimmy Weber
Ritter Agent Training & Development Webinar Series
Ritter Insurance Marketing Events
Social Security COLA Set at 1.3% for 2021
More episodes you'll like:
October 9, 2020 | The Friday Five
The Friday Five for October 9, 2020: Last Chance for a Stimulus Deal?; Walmart will sell Medicare plans this AEP; Clover Health Goes Public; CVSHealth's Aetna MA expansion for 2021; and Apple announces iPhone event.
5 Tips to Make the Most of AEP
Kick off AEP with these 5 sales and marketing tips. We want this Annual Enrollment Period to be your most successful season yet!
Examining the Medicare Part B Premium Giveback
Lower your clients' Medicare Advantage costs with the Medicare Part B Premium Giveback! Learn more about how this unique plan benefit works.
Navigating Insurance Sales During AEP & COVID
AEP is coming and COVID-19 is still here. What does that mean for your Medicare sales and commissions this year? Learn how to pivot your sales strategy and adapt your business to sell Medicare Advantage, Med Supp, and Medicare Part D Prescription plans compliantly during AEP and the pandemic. We're here to help you do it!
Understanding Medicare Advantage Enrollment Periods
Medicare Advantage has different enrollment periods than Medicare Supplements. What are the Med Advantage enrollment periods? How and when do your Medicare clients qualify for them? Get the answers to your MA enrollment period questions right now!
The latest from Ritter's Blog:
Do's and Don'ts of Medicare Compliance
Life as an agent before Medicare's Annual Enrollment Period is a flurry of contracting and certifying. But there's another C that's even more important: Compliance. It's not just something to consider during the busy season.
Get Your Medicare Advantage Sales Contracts Here – Recommendations for 2021
We're now entering the AEP season, and there's still an opportunity to contract with competitive plans in your area through Ritter. Agents can view a map of our available carriers and products in your state. 
How Much Can Insurance Agents Make Selling Medicare?
If you're considering selling Medicare, you likely want to know how much you can earn from it. We're covering the basics, including how working with an FMO can affect your commissions, to give you a good idea!
Subscribe & Follow:
Connect on social: